Democracy Needs Aristocracy (Paperback)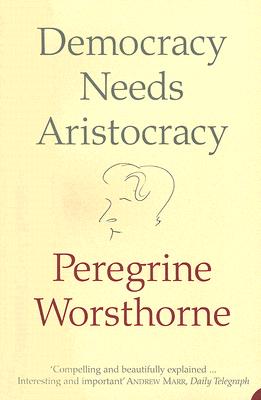 $9.99

Not On Our Shelves—Ships in 1-5 Days
(This book cannot be returned.)
Description
---
In one of the most explosive and hotly debated books of the past year, Sir Peregrine Worsthorne presents a reactionary and playful look at the origins, evolution and demise of the aristocracy and what we can expect to replace them.
Every country has the aristocracy it deserves; so what does it say about Britain that it is in the process of removing the last vestiges of political power from one of the most ancient hereditary aristocracies in the world, and one, moreover, whose record of public service has been impeccable?
The word aristocracy has many connotations, some good, some bad, and Britain's aristocracy has in the past earned most of them in some degree or another. But Sir Peregrine Worsthorne, one of our most influential and respected political commentators, argues that not only does the good far outweigh the bad, but that our aristocracy has contributed mightily to our stability and prosperity, and that without it we would have neither.
In this passionately argued and highly original essay Worsthorne forcefully demonstrates the shallowness of those who would celebrate the abolishment of hereditary peers in the House of Lords. For though many now forget it, Britain once had an upper class which was the envy of the world, and which, crucially, 'had enough in-built authority - honed over three centuries - and enough ancestral wisdom - acquired over three centuries - to dare to defy the arrogance of intellectuals from above and the emotions of the masses from below; to dare to resist the entrepreneurial imperative; to dare to try to raise the level of public conversation; to dare to put the public interest before private interests; and to dare to shape the nation's will and curb its appetites.'
About the Author
---
Sir Peregrine Worsthorne, 79, is one of the most distinguished and outspoken editors of recent times - he worked at the Daily Telegraph between 1953 and 1961 and for 28 years at the Sunday Telegraph between 1961 and 1989, spending five years as deputy editor and three as editor. He was knighted in 1991.