The Things They Cannot Say: Stories Soldiers Won't Tell You About What They've Seen, Done or Failed to Do in War (Paperback)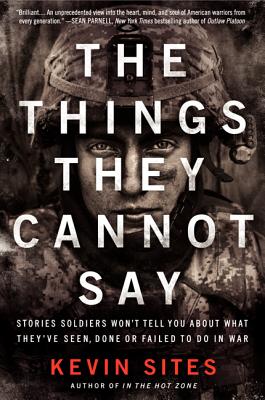 $17.99
Not On Our Shelves—Ships in 1-5 Days
Description
---
What is it like to kill?  What is it like to be under fire? How do you know what's right? What can you never forget?
In The Things They Cannot Say, award-winning journalist and author Kevin Sites asks these difficult questions of eleven soldiers and marines, who—by sharing the truth about their wars—display a rare courage that transcends battlefield heroics.
For each of these men, many of whom Sites first met while in Afghanistan and Iraq, the truth means something different. One struggles to recover from a head injury he believes has stolen his ability to love; another attempts to make amends for the killing of an innocent man; yet another finds respect for the enemy fighter who tried to kill him. Sites also shares the unsettling narrative of his own failures during war—including his complicity in a murder—and the redemptive powers of storytelling that saved him from a self-destructive downward spiral.
About the Author
---
Kevin Sites has spent more than a decade covering wars and conflicts for ABC, NBC, CNN, Yahoo! News, and Vice magazine. He is the author of In the Hot Zone: One Man, One Year, Twenty Wars and The Things They Cannot Say: Stories Soldiers Won't Tell You About What They've Seen, Done or Failed to Do in War. He is also an associate professor of journalism at the University of Hong Kong.
Praise For…
---
"Sites highlights the importance of treatment for post-traumatic stress disorder and sharing stories. Most importantly, he forces readers, those average civilians, to look at what war does to people and think about whether it's always worth it."
— San Francisco Chronicle

"The harrowing accounts detail the experiencesof 11 US soldiers and Marines who have been ravaged by modern warfare and its psychological aftermath. What makes Kevin's reporting unique and essential is that it didn't stop on the battlefield—he followed his subjects home."
— Vice

"Brilliant! An unprecedented view into the heart, mind and soul of American Warriors from every generation. A must read for every American."
— Sean Parnell, New York Times Bestselling Author of Outlaw Platoon

A vivid set of portrats of modern combatants written in prose taht moves with speed and heat."
— Edward Tick, Ph. D., codirector of Solider's heart and authof of War and Soul

"Riveting and emotionally raw...These gripping stories...are evidence of a profound desire to heal."
— Publishers Weekly

"This is tough stuff, as many of the experiences recounted here are graphic, cruel, and bloody, but they offer an intimate look at the costs of war on a personal, elemental level."
— Booklist

"In sensitive, honest prose, the author emphasizes that this is a book about hope. An important book for warriors and the communities that send them to war."
— Kirkus Reviews

A gritty look at postwar distress, including veterans' personal accounts, by a journalist with his own intimate perspective on the subject.
— Shelf Awareness (Bruce Jacobs of Watermark Books & Cafe, Wichita, KS