Warrior King: The Triumph and Betrayal of an American Commander in Iraq (Paperback)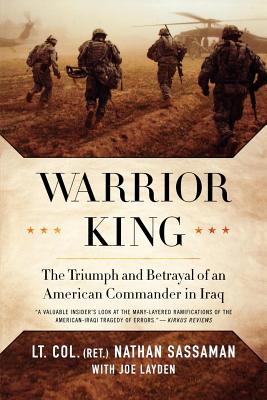 $23.99
Not On Our Shelves—Ships in 1-5 Days
(This book cannot be returned.)
Description
---
The startling and controversial memoir of combat and betrayal, written by one of the most prominent members of the U.S. fighting forces in Iraq.
A West Point graduate, a former star quarterback who carried Army to its first bowl victory, and a courageous warrior who had proven himself on the battlefield time and again, Lt. Col. Nathan Sassaman was one of the most celebrated officers in the United States military. He commanded more than eight hundred soldiers in the heart of the insurgency-ravaged Sunni Triangle in Iraq; his unit's job was to seek out and eliminate terrorists and loyalists to Saddam Hussein, while rebuilding the region's infrastructure.
Yet Sassaman will always be known for a fateful decision to cover up the alleged drowning of an Iraqi by his men, where they purportedly forced two detainees to jump into the Tigris River. The Army initially charged three soldiers with manslaughter and a fourth with assault—the first time troops who served in Iraq had been charged with a killing in connection with the handling of detainees. Sassaman's decision led to his downfall, despite an impressive career, and sent shockwaves through the American military.
Warrior King is the explosive memoir of one of the most deeply involved members of the U.S. military in Iraq. This is the first book to take readers from the overnight brutality of combat, to the daunting daytime humanitarian tasks of rebuilding Iraq, to the upper echelons of the Pentagon to show how and why the war has gone horribly wrong.
About the Author
---
NATHAN SASSAMAN graduated from West Point in 1985. In August 2003, when his patrol came under attack, Sassaman braved machine-gun and R.P.G. fire to drag one of his wounded soldiers from his vehicle and chased down the insurgents, killing or capturing all of them, earning himself a Bronze Star for valor in Iraq. He commanded the 1st Battalion, 8th Infantry Regiment in Iraq from '03 to '04. He lives in Colorado.
JOE LAYDEN is an award-winning journalist and freelance writer whose work has been honored by the New York Newspaper Publishers Association, the National Associated Press Sports Editors, the New York State Associated Press Association, and the International Reading Association/Children's Book Council.
Mr. Layden has written or co-written more than thirty books for adults and children, including The Last Great Fight and The Ghost Horse.
Praise For…
---
"A valuable insider's look at the many-layered ramifications of the American-Iraqi tragedy of errors." —Kirkus Reviews