Processed Cheese: A Novel (Hardcover)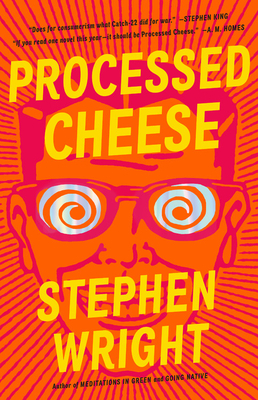 $28.00

Not On Our Shelves—Ships in 1-5 Days
Description
---
From an "astonishing" writer (Toni Morrison), the savagely funny story of a couple who unexpectedly come into some money in a wealth-obsessed America deranged by Mammon.

A bag of money drops out of the sky, literally, into the path of a cash-starved citizen named Graveyard. He carries it home to his wife, Ambience, and they embark on the adventure of their lives, finally able to have everything they've always thought they deserved: cars, guns, games, jewels, clothes—and of course sex, travel, and time with friends and family. There is no limit except their imagination and the hours in the day, and even those seem to be subject to their control.

Of course, the owner of the bag is searching for it, and will do whatever is necessary to get it back. And, of course, these new riches change everything—and nothing at all.

Darkly hilarious, Processed Cheese is both satire and serious as death. It's a road novel, a family story, and a last-girl-standing thriller of once-in-a-generation vitality and inventiveness. With the clarity of a Swift or a Melville, Wright has created a funhouse-mirror drama that puts all the chips on the table and every bullet in the clip, down to the last breathtaking moment.
About the Author
---
Stephen Wright is a Vietnam veteran, MFA graduate of the Iowa Writers' Workshop, and the author of four previous novels. He has received a Whiting Award in Fiction, a Guggenheim Fellowship, and a Lannan Literary Fellowship, and has taught writing and literature at Iowa, Princeton, Brown, and The New School. He was born in Warren, Pennsylvania, and lives in New York City.
Praise For…
---
PRAISE FOR PROCESSED CHEESE:
—
-
"Absolutely brilliant, a frenetic, hilarious rush of pure feeling...the pacing is a thrill... [Wright's] a masterly writer, with a wild sense of humor.. sentences, so wonderful, so bizarre, $100 bills pulled endlessly from a canvas bag."
—
Kevin Wilson, New York Times
"An outrageous farce about money, sex and guns, which is to say, about America circa now...Nothing else I've read is as faithful to the obscenity of these latter days, the consummation of vacuous pop culture and complete social bankruptcy. For readers who can stomach it, PROCESSED CHEESE is jolting enough to reveal what degradation we've become inured to."
—
Ron Charles, Washington Post
"In a fairer- or at least weirder- literary world, Stephen Wright would be as famous as Thomas Pynchon or Don DeLillo...PROCESSED CHEESE is a difficult novel to love, but an easy one to admire, and with it, Wright cements his reputation as one of the country's greatest living writers of fiction. An excoriating critique of what America has become, PROCESSED CHEESE is an exhausting, maddening and unforgettable book about how far we're willing to go to satisfy our greed."
—
Michael Schaub, NPR
"A wry satire of a money-obsessed society."
—
USA Today, 5 Books Not to Miss
"The best Trump fiction [which ] has dialed up the absurdity to speculative extremes."
—
Alex Shephard, The New Republic
"
Processed Cheese
does for consumerism what
Catch-22
did for war."—
Stephen King, bestselling author of IT and The Shining
"Wildly imaginative, funny, dark, endlessly inventive, Stephen Wright is one of our most original and essential American novelists."
—
Francine Prose, author of A Changed Man and Blue Angel
"For many of us, Stephen Wright counts among the Famous Monsters of the postmodern novel. His too-infrequent, wildly divergent books each land as an event- guaranteed only to be unpredictable and brilliant, loaded with wit and heartfelt indignation."
—
Jonathan Lethem, author of Motherless Brooklyn and The Feral Detective
"Why is Stephen Wright so funny and what can I do to be as funny as him? As perceptive? As inventive? As smart? Not much, I guess. So I'll just sit here reading
Processed Cheese
over and over while gnashing my teeth."—
Gary Shteyngart, author of The Russian Debutante's Handbook and Super Sad True Love Story
"In novel after unsparing novel-each one gorgeous, too, and full of awe- Stephen Wright has emerged as a kind of modern-day Socrates hectoring a complacent citizenry to have a good hard look at its collective delusions. With
Processed Cheese
, he's written a novel so outrageous and diagnostic of our current ills, it will prove much stronger than hemlock. If you hope to keep up your venality, America, your cruelties, and your death wish, better string this court jester up by his toes."—
Joshua Ferris, author of The Dinner Party
"
Processed Cheese
is a novel of such thrilling extravagance that I swear it spiked my glucose levels. Stephen Wright has given us a fable about America's infatuation with wealth, a limit-test on the question of what, exactly, money can buy. Hilarious, outlandish, deeply troubling, and completely debauched, this book is basically perfect for the current moment."—
Nathan Hill, author of The Nix
"With his characteristic energy and brilliance, Stephen Wright has met the savagery and cruelty of America's bottomless, corrosive greed with a hilarious send up and brutal take down. Morally urgent,
Processed Cheese
is also wild, original, and wickedly fun to read."—
Dana Spiotta, author of Eat the Document and Stone Arabia
"Turn off the TV news and treat yourself to
Processed Cheese
. Stephen Wright-who deserves to be a household name- takes the reader on a wild ride through the American unsaid. Wright digests who we are and what we have become and delivers us back to ourselves as a kind of literary Soylent Green, rich in kale, collagen and cash. The absurdity of society gone insane is the currency here. Wright's prose spins a uniquely absurdist candy floss, reminding us of the pleasures and high-wire acts of the greats: think Kurt Vonnegut, Tom Wolfe, Don Delillo on Dylar, the drug he invented in
White Noise
, and you've got Stephen Wright. If you read one novel this year-it should be
Processed Cheese
."—
A.M. Homes, author of This Book Will Save Your Life and Days of Awe
"Stephen Wright's
Processed Cheese
is a smart and delicious allegory on the evils of neoliberalism. It is a very fine and urgent morality tale hidden in the Trojan Horse of a great and funny novel."—
Min Jin Lee, author of Free Food for Millionaires and Pachinko, finalist for the National Book Award
"Stephen Wright is the genuine American article, a reckless, rough-hewn truth teller. And a great poetic lyricist besides. No one like him."
—
Russell Banks, award-winning author of The Sweet Hereafter
"Stephen Wright is one of the most original and exciting novelists alive.
Processed Cheese
was worth the wait."—
Kevin Powers, author of the The Yellow Birds
"This dark, harrowing, and wildly funny novel somehow both challenges and affirms that tried-and-true adage: Money isn't everything."
—
KirkusPRAISE FOR STEPHEN WRIGHTMeditations in Green (1983)
"Precisely that brutal hallucination we desperately wanted to end." --Don DeLillo
"The best that any fiction about this war has offered." --
Newsweek
M31: A Family Romance (1988)
"Beautiful and terrifying. . . .
M31
offers a big, bold look at the American family. It takes us far away and very close to home. . . . Stephen Wright is a . . . bright star in the literary sky." --
San Francisco Chronicle


"
M31
is a devastatingly forceful accomplishment and reestablishes its author as a star of the first magnitude." --
The Washington Post Book World
"Mr. Wright's sentences buzz like high-tension wires. I enjoyed reading every word of
M31,
literally." --Russell Banks
Going Native (1994)
"An astonishing novel." --Toni Morrison
The Amalgamation Polka (2007)
"An extravagantly talented novelist. . . . For Wright, America, past and present, is Wonderland, a place of marvels and horrors from which not even the fortunate escape with their heads. " --Laura Miller,
The New York Times Book Review
"This dark and lyrical tale of madness and prophecy speaks uncannily from within its period, in the tradition of heartbroken humor, which America's lapses of faith in its own promise have always evoked in the finest of our storytellers, among whom Stephen Wright here honorably takes his place." --Thomas Pynchon
"Quite simply an astonishing novel, brilliantly executed and beautifully written. Stephen Wright deserves to be famous and feted for it."
--
The Atlanta Journal-Constitution
—
-