Zero Footprint: The True Story of a Private Military Contractor's Covert Assignments in Syria, Libya, And the World's Most Dangerous Places (Paperback)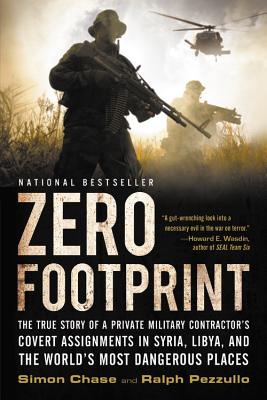 $17.99
Special Order—Subject to Availability
Description
---
This national bestseller is a dramatic insider account of the world of private military contracting.

Armored cars, burner phones, top-notch weaponry and top-secret missions -- this is the life of today's private military contractor. Like author Simon Chase, many PMCs were once the world's top military operatives, and since retiring from outfits like US Navy SEAL TEAM Six and the UK's Special Boat Service, they have devoted their lives to executing sensitive and hazardous missions overseas.

Working at the request of U.S. and British government entities as well as for private clients, he takes on jobs that require "zero footprint," with no trace of their actions left behind. Chase delivers firsthand accounts of tracking Bin Laden in Afghanistan and being one of the first responders after the attack on the U.S. Consulate in Benghazi. We see his teams defuse terrorist bombs, guard dignitaries, and protect convoys traveling through perilous territory -- and then there are the really big jobs: top-secret "zero footprint" missions that include searching for High Value Targets and setting up arms shipping networks.

The missions in Zero Footprint will shock readers, but so will the personal dangers. Chase and the men he works with operate without government backup or air rescue. If they die serving their country, they remain anonymous. There are no military honors or benefits. Contractors like Simon Chase are the unsung heroes in the war against terrorism, a strong, but largely invisible force -- until now.
About the Author
---
Simon Chase is the pen name of a former member of the elite Royal Marine Commandos. He was recruited into the British Special Forces, serving in the Special Boat Squadron (SBS). While there he carried out top secret missions around the world working alongside the CIA and DEA. More recently, he has worked with a close-knit team of U.S. Special Forces operatives to provide high-level protection and intervention services for individuals, corporations and governments all over the globe.
Praise For…
---
"
Zero Footprint
reveals an intimate and visceral look at the life of a Private Military Contractor (PMCs) and the perilous missions that the author and others were so often assigned. This gripping story superbly chronicles the life of Simon Chase, former Royal Marine Commando and Special Boat Squadron operator. Chase's incredible story will leave its readers with a true appreciation and respect for the training and missions these so called "shadowy figures," the "unsung invisible force" simply known as PMCs, were so often assigned."—
Don D. Mann, SEAL Team SIX (ret.), and author of Inside SEAL Team SIX
"
Zero Footprint
is a gut-wrenching look into a necessary evil in the war on terror. It may offend your sensibilities, but sometimes you have to fight fire with fire. I sit in no judgment of these highly skilled warriors as I have seen the beast that they are up against."—
Howard Wasdin, author of Seal Team Six: Memoirs of an Elite Navy Seal Sniper
"From the mountains of Tora Bora to the mean streets of Baghdad and Benghazi, Simon Chase has fought in the shadow places of this earth and lived to tell the tale.
Zero Footprint
is his harrowing story, intense, frightening, and eventually heart-breaking. One of the best counter-terror memoirs I've ever read."—
Chuck Pfarrer, SEAL Team Six Assault Element Commander, and author of Philip Nolan: The Man Without a Country
"Absorbing . . . Well-wrought and exciting . . . A well-developed look inside the life and work of an accomplished private military contractor."
—
Kirkus Reviews
"The life of a private security contractor is a life like no other. The careers of the operators described in the powerful and fascinating
Zero Footprint
can only happen after they have graduated from a successful career inside a Special Forces of the top militaries in the world. They fill a special space that requires their unique skills. If arrested in one of their missions, there is no Geneva Convention, there are no diplomatic immunity protections, and their employer will most likely deny they know them. Simon Chase and Ralph Pezzullo have written an exciting account of a career reserved only for a few of the finest in the world. It's an excellent book!"—
Joel Vargas, Assistant Director for Law Enforcement Operations & Head of Intelligence, International Association of Airport & Seaport Police (InterPort Police)
"As a twenty-four year veteran of the Green Berets and twelve years as a private military contractor, I can tell you that
Zero Footprint
is an accurate, exciting, no-holds-barred account of the often grey and very dangerous world of private military contracting. Simon Chase has fought on the front lines in Iraq, Afghanistan, Syria, and Libya, and lived to talk about it. His account of the secret mission he ran in Benghazi is chilling and sure to create headlines. I recommend this important book by Simon Chase and Ralph Pezzullo to anyone interested in how war is actually waged in today's world."—
Retired US Special Forces Master Sergeant Changiz Lahidji