We're following all official guidelines to keep ourselves healthy on the job, and as a result, shipping may be delayed.
You will receive an email from our web orders team confirming that your order has been processed.
We thank you for your support and your patience at this challenging time.
The Fall of Wisconsin: The Conservative Conquest of a Progressive Bastion and the Future of American Politics (Paperback)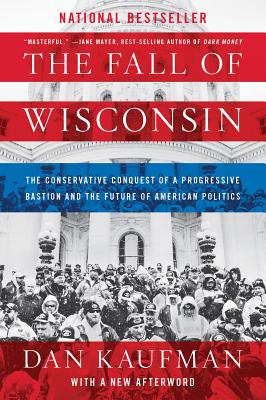 Description
---
National bestseller



"Masterful." —Jane Mayer, best-selling author of Dark Money
The Fall of Wisconsin is a deeply reported, searing account of how the state's progressive tradition was undone and Wisconsin itself turned into a laboratory for national conservatives bent on remaking the country. Neither sentimental nor despairing, the book tells the story of the systematic dismantling of laws protecting the environment, labor unions, voting rights, and public education through the remarkable battles of ordinary citizens fighting to reclaim Wisconsin's progressive legacy.
About the Author
---
Dan Kaufman has written for The New York Times Magazine and The New Yorker. Originally from Wisconsin, he now lives in Brooklyn with his wife and son.
Praise For…
---
[The Fall of Wisconsin] laments the state's recent trajectory and chronicles 'the conservative war' on its political legacy.… Sharply reported.

— Michael O'Donnell

Belongs with well-known recent studies such as J.D. Vance's Hillbilly Elegy and Arlie Russell Hochschild's Strangers in Their Own Land.

— Ron Elving

Dan Kaufman shows how the state became a conservative test case.… Kaufman believes that Wisconsin's extreme makeover portends something scary for the rest of us.
— Jennifer Szalai

Kaufman's taut primer on Wisconsin progressivism hits his mark.… [A]n indispensable guide for activists who wish to have any hope of taking on the vast Republican infrastructure.
— Jake Wertz

The Fall of Wisconsin shows that the most important story in American politics was hiding in plain sight.

— Jeffrey Toobin

A deep, heartbreaking dive into a state's shift to the right tells the story of national politics in miniature.

Absorbing.… [Kaufman] presents the state as emblematic of nationwide trends.
— M.J. Andersen

Kaufman burrows badgerlike into the politics of America's Dairyland, unearthing the personal histories of its people.… In doing so, he reveals Wisconsin's transformation from a 'pioneering beacon' of progressive policies, responsible for the nation's first worker's-comp and unemployment-insurance programs, to 'a laboratory for corporate interests.'
— Michelle Hart

This is a book about political power, its seizure, its uses, and its victims—a powerful amassing of tiny stories of struggle and resistance and often defeat against impossible odds.
— John Dolan

A highly readable, thoroughly engrossing report.
— Jim Swearingen