Debriefing the President: The Interrogation of Saddam Hussein (Paperback)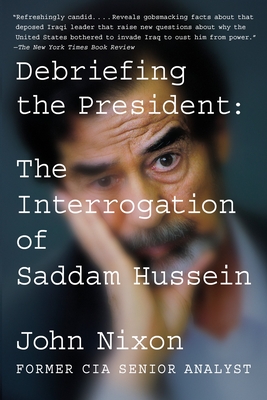 $16.00
Special Order—Subject to Availability
Description
---
Debriefing the President presents an astounding, candid portrait of one of our era's most notorious strongmen. John Nixon, the first man to conduct a prolonged interrogation of Hussein after his capture, offers expert insight into the history and mind of America's most enigmatic enemy. 

In December 2003, after one of the largest, most aggressive manhunts in history, US military forces captured Iraqi president Saddam Hussein near his hometown of Tikrit. Beset by body-double rumors and false alarms during a nine-month search, the Bush administration needed positive identification of the prisoner before it could make the announcement that would rocket around the world.

At the time, John Nixon was a senior CIA leadership analyst who had spent years studying the Iraqi dictator. Called upon to make the official ID, Nixon looked for telltale scars and tribal tattoos and asked Hussein a list of questions only he could answer. The man was indeed Saddam Hussein, but as Nixon learned in the ensuing weeks, both he and America had greatly misunderstood just who Saddam Hussein really was.

After years of parsing Hussein's leadership from afar, Nixon faithfully recounts his debriefing sessions and subsequently strips away the mythology surrounding an equally brutal and complex man. His account is not an apology, but a sobering examination of how preconceived ideas led Washington policymakers—and the Bush White House—astray. Unflinching and unprecedented, Debriefing the President exposes a fundamental misreading of one of the modern world's most central figures and presents a new narrative that boldly counters the received account.
About the Author
---
John Nixon was a senior leadership analyst with the CIA from 1998 to 2011. He did several tours in Iraq and was recognized by a number of federal agencies for his contribution to the war effort. During his time with the CIA, Nixon regularly wrote for, and briefed, the most senior levels of the US government.  He also taught leadership analysis to the new generation of analysts coming into the CIA at the Sherman Kent School, the Agency's in-house analytic training center. Since leaving the Agency in 2011, Nixon has worked as an international risk consultant in Abu Dhabi, UAE.  He lives in Alexandria, Virginia. This is his first book.
Praise For…
---
"A damning indictment of the perversion of a major intelligence service by little minds inside and above it." –The Times of London

"That a CIA officer should hold power to account in a memoir is unusual, and patriotic. John Nixon has done so with insight and style. Debriefing The President is a page turner of historical consequence — excellent news for the republic in treacherous times." – Nick McDonell, author of Twelve and The End of Major Combat Operations 


"Nixon captures the psychological give-and-take of these exchanges [with Saddam Hussein] with gripping readability...and he describes the resultant verbal sparring with a sharp ear for nuance." – Steve Donoghue, The Christian Science Monitor

"Mr. Nixon, the first C.I.A. officer to interrogate Hussein after his capture in December 2003, reveals gobsmacking facts about that deposed Iraqi leader that raise new questions about why the United States bothered to invade Iraq to oust him from power. These details will likely appall Americans who have watched their nation's blood and treasure wasted in Iraq ever since…. More broadly, Mr. Nixon offers a stinging indictment of the C.I.A. and what he sees as the agency's dysfunctional process for providing intelligence to the president and other policy makers…. Mr. Nixon's book comes at an extraordinary moment, when President-elect Donald J. Trump is already at war with the C.I.A…."Debriefing the President" will add fuel to the fire of the Trump-led criticism. It will also send a chilling warning to anyone counting on the C.I.A. to stand up to Mr. Trump once he is in office." – James Risen, The New York Times
 
"Gripping…Nixon's book, Debriefing the President, gives more ammunition to the skeptics; indeed, some of its contents can only be described as sensational." – John Cassidy, The New Yorker

"A fascinating glimpse of the "tough, shrewd, manipulative" leader and his views on the U.S. invasion, Iraqi history, and his own role in the Middle East...An intelligent and readable postscript to the Iraq War that will be valuable for future historians."
--Kirkus (starred review)