Zero History (Blue Ant #3) (Paperback)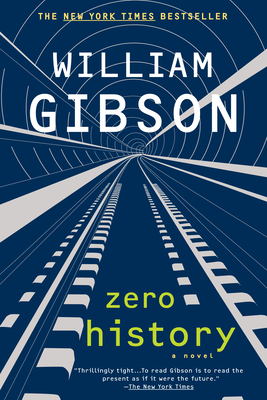 Other Books in Series
This is book number 3 in the Blue Ant series.
Description
---
Hollis Henry never intended to work for global marketing magnate Hubertus Bigend again. But now she's broke, and Bigend has just the thing to get her back in the game...
 
Milgrim can disappear in almost any setting, and his Russian is perfectly idiomatic—so much so that he spoke it with his therapist in the secret Swiss clinic where Bigend paid for him to be cured of his addiction...
 
Garreth doesn't owe Bigend a thing. But he does have friends from whom he can call in the kinds of favors powerful people need when things go sideways...
 
They all have something Bigend wants as he finds himself outmaneuvered and adrift, after a Department of Defense contract for combat-wear turns out to be the gateway drug for arms dealers so shadowy they can out-Bigend Bigend himself.

"Zero History is [Gibson's] best yet, a triumph of science fiction as social criticism and adventure."—BoingBoing.net
About the Author
---
William Gibson's first novel, Neuromancer, won the Hugo Award, the Nebula Award, and the Philip K. Dick Award. He is also the New York Times bestselling author of Count Zero, Burning Chrome, Mona Lisa Overdrive, Virtual Light, Idoru, All Tomorrow's Parties, Pattern Recognition, Spook Country, Zero History, Distrust That Particular Flavor, and The Peripheral. He lives in Vancouver, British Columbia, with his wife.
Praise For…
---
"[Gibson] weaves an unnerving tapestry of technology, violence and anxiety."—The Daily Telegraph (London)

"Fascinating."—The Seattle Times

"Uncanny."—San Antonio Express-News

"Brilliant, entertaining, and bittersweet."—io9 

"Zero History is another smartly scouted roadmap of alternate routes through today's global culture, as powered by what a friend of mine used to call the military-industrial-greeting-card complex. It's a world where cool is king, but also the key to power—and the future."—Milwaukee Sentinel Journal

"What matters [about Zero History] are the highly textured, brilliantly evocative prose and the stunning insights Gibson offers into what we perceive as the present moment—the implication being, per the title, that's all we have left. Unsettling and memorable."—Kirkus Reviews