Hogs in the Shadows: Marine Snipers in Action (Mass Market)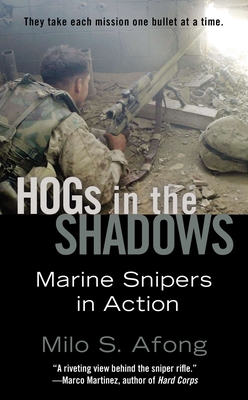 $7.99
Special Order—Subject to Availability
Description
---
There is a special breed of Marine for whom the prey is the enemy—and every day is hunting season. This Marine is a HOG—a Hunter of Gunmen.

These are the gripping, gut-wrenching true stories of those Marines in Iraq whose sole purpose on the battlefield is to eliminate the enemy—one combatant at a time. Every time a HOG puts his eye to the glass, it means death for his target.

Here, former Scout/Sniper Team leader Milo S. Afong reveals what it takes to be a Hunter of Gunmen. He describes the intensive training that turns expert infantrymen into one-shot life-takers, how they operate in the field—and under fire—and how HOGs get the job done under any conditions.

From sniping from a rooftop in Baghdad, to unknowingly being surrounded in a palm grove in the city of Hit, these stories will transport you right into the heat of the desert war, where one squeeze of the trigger can make all the difference.
About the Author
---
Milo S. Afong is the recipient of the Purple Heart, the Combat Action Ribbon, and the Navy and Marine Corps Achievement Medal with the Combat Distinguishing Device.
Praise For…
---
"A riveting view behind the sniper rifle."—Marco Martinez, author of Hard Corps

"Anyone doubting the nature of America's mission in Iraq need look no further than these grim accounts."—Kirkus Reviews
 
"HOGs in the Shadows will give you a personal look inside the mentally and physically demanding world of the Marine Sniper in combat, almost to the point you could feel the recoil yourself." —SFC Frank R. Antenori, U.S. Army Special Forces (Retired), and author of Roughneck Nine One: The Extraordinary Story of a Special Forces A-Team at War