Lost in a Gallup: Polling Failure in U.S. Presidential Elections (Hardcover)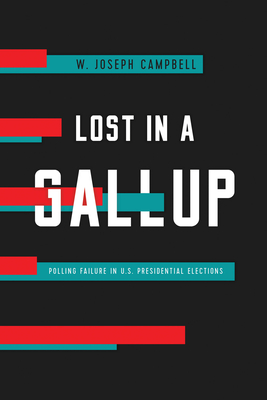 $29.95
In Stock—Click for Locations
Description
---
A sweeping look at the messy and contentious past of US presidential pre-election polls and why they aren't as reliable as we think.

Donald Trump's unexpected victory in the 2016 U.S. presidential election brought sweeping criticism of election polls and poll-based statistical forecasts, which had signaled that Hillary Clinton would win the White House. Surprise ran deep in 2016, but it was not unprecedented. Lost in a Gallup examines in lively and engaging fashion the history of polling flops, epic upsets, unforeseen landslides, and exit poll fiascoes in American presidential elections. Drawing on archival collections and contemporaneous sources, W. Joseph Campbell presents insights on notable pollsters of the past, including George Gallup, Elmo Roper, Archibald Crossley, Warren Mitofsky, and Louis Harris.
The story is one of media failure, too, as journalists invariably take their lead from polls in crafting campaign narratives. Lost in a Gallup describes how numerous prominent journalists—including Edward R. Murrow, Jimmy Breslin, Mike Royko, Christopher Hitchens, and Haynes Johnson—were outspoken poll-bashers and critics. In assessing polling's messy, uneven, and controversial past, Campbell emphasizes that although election polls are not always wrong, their inherent drawbacks invite skepticism and wariness. Readers will come away better prepared to weigh the efficacy and value of pre-election polls in presidential races, the most important of all American elections.
 
About the Author
---
W. Joseph Campbell is an American writer, historian, media critic, and blogger who is the author of six other books, including the award-winning Getting It Wrong: Debunking the Greatest Myths in American Journalism.
Praise For…
---
"Campbell puts the glaring mistakes of the 2016 presidential polls in historical perspective in this accessible and well-informed survey of polling errors. . . . Newshounds closely following the latest 2020 predictions would be well-advised to read this bracing reality check."
— Publishers Weekly
"A fast-moving narrative history of some attempts to gauge public opinion amid electoral politics. . . . Campbell's gaze goes far beyond the Beltway and back further in history than the astonishing election night four years ago." 
— Wall Street Journal
"Campbell's book is a tour de force on the history of presidential polling."
— Civitas Institute
"Campbell shows how other errors have bedeviled the polling industry since 1936 despite decades of advances in computer power and statistical sophistication. It is difficult to read Campbell's book without empathizing with the pollsters and (crucially, as Campbell observes) the journalists and pundits interpreting and amplifying their conclusions."
— Milken Institute Review