We're following all official guidelines to keep ourselves healthy on the job, and as a result, shipping may be delayed.
You will receive an email from our web orders team confirming that your order has been processed.
We thank you for your support and your patience at this challenging time.
The Rule of Five: Making Climate History at the Supreme Court (Hardcover)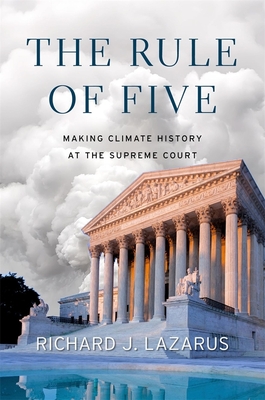 Description
---
"The gripping story of the most important environmental law case ever decided by the U.S. Supreme Court. Richard Lazarus's compelling narrative is enlivened by colorful characters, a canny dissection of courtroom strategy, and a case where the stakes are, literally, as big as the world."
--Scott Turow, author of Presumed Innocent
"There's no better book if you want to understand the past, present, and future of environmental litigation."
--Elizabeth Kolbert, author of The Sixth Extinction
The gripping inside story of how an unlikely team of lawyers and climate activists overcame conservative opposition--and their own divisions--to win the most important environmental case ever brought before the Supreme Court.
When the Supreme Court announced its ruling in Massachusetts v. EPA, the decision was immediately hailed as a landmark. But this was the farthest thing from anyone's mind when Joe Mendelson, an idealistic lawyer working on a shoestring budget for an environmental organization no one had heard of, decided to press his quixotic case.
In October 1999, Mendelson hand-delivered a petition to the Environmental Protection Agency asking it to restrict greenhouse gas emissions from new cars. The Clean Air Act had authorized the EPA to regulate "any air pollutant" that could reasonably be anticipated to endanger public health. But could something as ordinary as carbon dioxide really be considered a harmful pollutant? And even if the EPA had the authority to regulate emissions, could it be forced to do so?
Environmentalists urged Mendelson to stand down. Thinking of his young daughters and determined to fight climate change, he pressed on--and brought Sierra Club, Greenpeace, NRDC, and twelve state attorneys general led by Massachusetts to his side. This unlikely group--they called themselves the Carbon Dioxide Warriors--challenged the Bush administration and took the EPA to court.
The Rule of Five tells the story of their unexpected triumph. We see how accidents, infighting, luck, superb lawyering, and the arcane practices of the Supreme Court collided to produce a legal miracle. An acclaimed advocate, Richard Lazarus reveals the personal dynamics of the justices and dramatizes the workings of the Court. The final ruling, by a razor-thin 5-4 margin, made possible important environmental safeguards which the Trump administration now seeks to unravel.