We're following all official guidelines to keep ourselves healthy on the job, and as a result, shipping may be delayed.
You will receive an email from our web orders team confirming that your order has been processed.
We thank you for your support and your patience at this challenging time.
Misdemeanorland: Criminal Courts and Social Control in an Age of Broken Windows Policing (Paperback)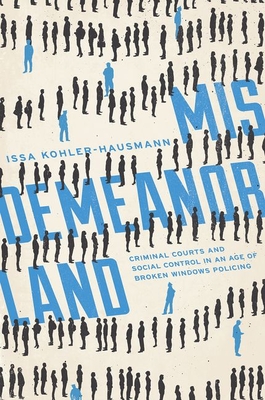 Description
---
An eye-opening account of the criminal justice system's often overlooked creaky gears.--Sam Roberts, New York Times
In the early 1990s, New York City launched an initiative under the banner of Broken Windows policing to dramatically expand enforcement against low-level offenses. Misdemeanorland is the first book to document the fates of the hundreds of thousands of people hauled into lower criminal courts as part of this policing experiment. Drawing on three years of fieldwork inside and outside of the courtroom, in-depth interviews, and analysis of trends in arrests and dispositions of misdemeanors going back three decades, Issa Kohler-Hausmann shows how the lower reaches of our criminal justice system operate as a form of social control and surveillance, often without adjudicating cases or imposing formal punishment. Misdemeanorland describes in harrowing detail how the reach of America's penal state extends well beyond the shocking numbers of people incarcerated in prisons or stigmatized by a felony conviction.
About the Author
---
Issa Kohler-Hausmann is associate professor of law and sociology at Yale University.