American Cipher: Bowe Bergdahl and the U.S. Tragedy in Afghanistan (Paperback)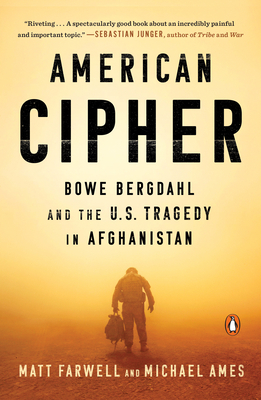 $18.00
In Stock—Click for Locations
Description
---
The explosive narrative of the life, captivity, and trial of Bowe Bergdahl, the soldier who was abducted by the Taliban and whose story has served as a symbol for America's foundering war in Afghanistan

"A riveting journalistic account of Bowe Bergdahl's disastrous--and weirdly poignant--choice to walk off his military base in Afghanistan. . . . A spectacularly good book about an incredibly painful and important topic."--Sebastian Junger, author of Tribe and War

Private First Class Bowe Bergdahl left his platoon's base in eastern Afghanistan in the early hours of June 30, 2009. Since that day, easy answers to the many questions surrounding his case have proved elusive. American Cipher is the riveting and deeply sourced account of the nearly decade-old Bergdahl quagmire and its place in the larger conflict in Afghanistan. The book tells the parallel stories of a young man's halting coming of age and a nation stalled in an unwinnable war, revealing the fallout that ensued when the two collided. The book's beating heart is Bergdahl himself--an idealistic, misguided soldier onto whom a nation projected the political and emotional complications of service.

Based on years of exclusive reporting drawing on dozens of sources throughout the military, government, and Bergdahl's family, friends, and fellow soldiers, American Cipher is at once a meticulous investigation of government dysfunction and political posturing, a blistering commentary on America's presence in Afghanistan, and a hearbreaking story of a naïve young man who thought he could fix the world and wound up the tool of forces far beyond his understanding.
About the Author
---
Matt Farwell is a freelance writer whose work has appeared in The New York Times, Vanity Fair, Rolling Stone, Men's Journal, Playboy, and other publications. He was an Army infantryman for five years, including sixteen months in Afghanistan. He lives in Fayetteville, Arkansas.

Michael Ames is a regular contributor to Newsweek and Harper's. His work has also appeared in The Atlantic, Slate, The Daily Beast, and The Believer. He spent nine years in Idaho working as a newspaper reporter and magazine editor, and now lives in Brooklyn.
Praise For…
---
"Compelling. . . . In American Cipher the specific facts of Bergdahl's case are elevated to the allegorical, and this is where Farwell and Ames's storytelling really shines. . . . Farwell and Ames convincingly show that so many of the reasons we've been fighting in Afghanistan for 18 years—bureaucratic inertia, partisan dysfunction, domestic indifference—are the same reasons that, even when Bergdahl's captors eagerly hoped to broker his release, it took so long to recover him."—Elliot Ackerman, The Washington Post

"Farwell and Ames convincingly rebut popular misconceptions about the then-23-year-old Private Bowe Bergdahl's desertion of his post in Afghanistan in 2009. . . . The authors humanize their subject with a detailed look at his life before Afghanistan. . . . The engrossing narrative intertwines Bergdahl's odyssey with an effective critique of U.S. policy in Afghanistan under both Republican and Democratic administrations. Readers looking for a nontechnical history of America's longest war and a nuanced look at Bergdahl's story will find that here."—Publishers Weekly, starred review

"Compelling. . . . What makes Matt Farwell and Michael Ames's American Cipher so welcome is its spurning of a hoary framework of understanding. . . . In its understated but poignant way, American Cipher paints a picture of the United States as a country that has forever been imprisoned by its imperialist impulse to expand." —The Nation

"Farwell and Ames recount the complete Bergdahl saga and much of the sorry tale of America's Afghanistan involvement. They move effortlessly between Bergdahl's life. . . and the larger picture of the war and the American political divisions over it. . . . Farwell and Ames make a great case for the continuum of history, depicting Afghanistan as a graveyard of empires in which the U.S. is the latest victim of a military quagmire and showing how one soldier's actions can polarize an entire nation. American Cipher sets the record straight on a tragic subject and will strongly appeal to a wide audience." —Booklist, starred review

"After his capture by Islamic terrorists, during five years of imprisonment at undisclosed locations across the border of Pakistan, every moment in Bowe Bergdahl's existence became fodder for controversy at an international level. The authors present compelling, convincing evidence that addresses each specific controversial element. . . . An unsettling and riveting book filled with the mysteries of human nature."—Kirkus

"The authors raise important questions about the psychological fitness of servicemen and -women and the diminishing chances for fair trials and treatment in a nation as polarized as ours today. This will resonate with readers gripped by C.J. Chivers's The Fighters."—Library Journal

"American Cipher is a riveting journalistic account of Bowe Bergdahl's disastrous—and weirdly poignant—choice to walk off his military base in Afghanistan. Avoiding easy outrage, Matt Farwell and Michael Ames do their best to understand what motivated Bergdahl's wildly irresponsible decision. For in that decision lie truths not only of a troubled mind but also of a troubled nation engaged in a seemingly endless war. This is a spectacularly good book about an incredibly painful and important topic." —Sebastian Junger, author of Tribe and War

"This excellent book is a cautionary tale about what happens when a confused and misguided young soldier is sent off to fight for an equally confused and misguided foreign policy."—Karl Marlantes, author of Matterhorn and What It Is Like To Go To War

"Matt Farwell and Michael Ames have written a vitally important book. As an account of Bowe Bergdahl's captivity and eventual release, American Cipher is compelling. Yet it's the backstory that really matters: The crippling dysfunction that permeates the U.S. war effort in Afghanistan, beginning in the combat zone and extending all the way back to Washington."—Andrew Bacevich, author of Twilight of the American Century

"Bowe Bergdahl's story should be required reading for all Americans, illuminating as it does so many aspects of an ill-conceived conflict. American Cipher shines a cold, clear light not just on an unending war, but also on the society that pays for it in countless ways. A fascinating book."—Andrew Cockburn, author of Kill Chain

"Matt Farwell and Michael Ames brilliantly reconstruct Bowe Bergdahl's journey and provide a damning portrait of America's role in Afghanistan, revealing the larger truth of why the U.S. has failed and why the war means unending tragedy for the Afghan people. American Cipher is haunting and moving, a deeply human study of an inhuman conflict. It is one of the most important books I've read about the Afghan war."—Anand Gopal, author of No Good Men Among the Living