Valley of the Shadow: A Novel (The Battle Hymn Cycle #3) (Hardcover)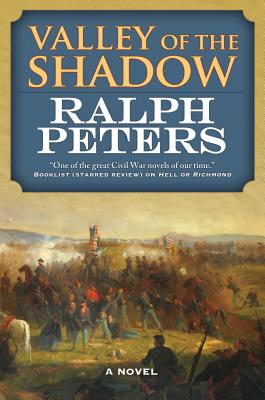 $26.99

Special Order—Subject to Availability
Other Books in Series
This is book number 3 in the The Battle Hymn Cycle series.
Description
---
Winner of the 2015 Boyd Award for Literary Excellence in Military Fiction

In the Valley of the Shadow, they wrote their names in blood.
From a daring Confederate raid that nearly seized Washington, D.C., to a stunning reversal on the bloody fields of Cedar Creek, the summer and autumn of 1864 witnessed some of the fiercest fighting of our Civil War—in mighty battles now all but forgotten.
The desperate struggle for mastery of Virginia's Shenandoah Valley, breadbasket of the Confederacy and the South's key invasion route into the North, pitted a remarkable cast of heroes in blue and gray against each other: runty, rough-hewn Phillip Sheridan, a Union general with an uncanny gift for inspiring soldiers, and Jubal Early, his Confederate counterpart, stubborn, raw-mouthed and deadly; the dashing Yankee boy-general, George Armstrong Custer, and the brilliant, courageous John Brown Gordon, a charismatic Georgian who lived one of the era's greatest love stories.
From hungry, hard-bitten Rebel privates to a pair of Union officers destined to become presidents, from a neglected hero who saved our nation's capital and went on to write one of his century's greatest novels, to doomed Confederate leaders of incomparable valor, Ralph Peters brings to life yesteryear's giants and their breathtaking battles with the same authenticity, skill and insight he offered readers in his prize-winning Civil War bestsellers, Cain at Gettysburg and Hell or Richmond.
Sharp as a bayonet and piercing as a bullet, Valley of the Shadow is a great novel of our grandest, most-tragic war.
About the Author
---
Ralph Peters is a retired Army lieutenant colonel and former enlisted man, a controversial strategist and veteran of the intelligence world; a bestselling, prize-winning novelist; a journalist who has covered multiple conflicts and appears frequently in the broadcast media; and a lifelong traveler with experience in over seventy countries on six continents. A widely read columnist, Ralph Peters' journalism has appeared in dozens of newspapers, magazines and web-zines, including The New York Post, The Wall Street Journal, USA Today, the Washington Post, Newsweek, Harpers, and Armchair General Magazine. His books include The Officers' Club, The War After Armageddon, Endless War, and Red Army. Peters grew up in Schuylkill County, Pennsylvania, and studied writing at Pennsylvania State University. He lives and writes in the Washington, D.C. area.
Praise For…
---
"Those who enjoy Bruce Catton's and Shelby Foote's Civil War histories will find a fictional equal in Peters . . . a superlative novel." —Kirkus Reviews, Starred Review

"[Peters] continues his superb chronicle of the Civil War. Peters naturally excels at precise military detailing and brutal battle scenes . . . an absolute must read." —Booklist

"[Peters'] immense knowledge of the tactics and the details of a soldier's life at that time are combined with a narrative drive that kept me turning pages late into the night." —Karl Marlantes, author of Matterhorn

"His empathy and insight have never been more powerfully expressed. Valley of the Shadow is a blazing masterpiece." —W.E.B. Griffin, New York Times bestselling author

"Historical fiction can do something that not even the best history texts can. It can make the reader say, 'Yes, this is how it felt.' Looking for proof of this? Just open the Ralph Peters novel you are holding." —George F. Will

"Brilliantly conceived and executed, Valley of the Shadow achieves that rare feat of combining genuine reading enjoyment with superb scholarship." —General Sid Shachnow, U.S. Army Special Forces (Retired)

"A gripping novel that is as historically accurate as it is enthralling." —Victor Davis Hanson, author of Carnage and Culture

"Ralph Peters once again superbly demonstrates his complete mastery of the craft of writing historical fiction. . . . Indeed, Peters' great gift as a novelist is to bring real history to life and make readers feel what it was like-is like-to experience combat." —Armchair General