The Damned of Petersburg: A Novel (The Battle Hymn Cycle #4) (Hardcover)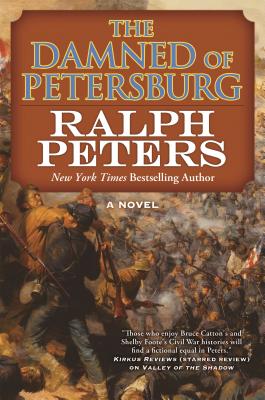 $27.99

Special Order—Subject to Availability
Other Books in Series
This is book number 4 in the The Battle Hymn Cycle series.
Description
---
New York Times bestselling author Ralph Peters returns with the fourth installment in his Boyd Award-winning series on the Civil War

GLORY TURNED GRIM…
…and warfare changed forever. As Grant pinned Lee to Petersburg and Richmond, the Confederacy's stubborn Army of Northern Virginia struggled against a relentless Union behemoth, with breathtaking valor and sacrifice on both sides. That confrontation in the bloody summer and autumn of 1864 shaped the nation that we know today.

From the butchery of The Crater, where stunning success collapsed into a massacre, through near-constant battles fought by heat-stricken soldiers, to the crucial election of 1864, The Damned of Petersburg resurrects our Civil War's hard reality, as plumes and sabers gave way to miles of trenches.

Amid the slaughter of those fateful months, fabled leaders—Grant and Lee, Winfield Scott Hancock and A. P. Hill—turned to rising heroes, Confederates "Little Billy" Mahone and Wade Hampton, last of the cavaliers, or Union warriors such as tragedy-stricken Francis Channing Barlow and the fearless Nelson Miles, a general at twenty-four.

Nor does Ralph Peters forget the men in the ranks, the common soldiers who paid the price for the blunders of leaders who'd never know their names. In desperate battles, now forgotten, such as Deep Bottom, Globe Tavern and Reams Station, soldiers on both sides, pushed to the last human limits, fought on as their superiors struggled to master a terrible new age of warfare.

The Damned of Petersburg revives heroes aplenty—enriching our knowledge of our most terrible war—but, above all, this novel's a tribute to the endurance and courage of the American soldier, North or South.
About the Author
---
Ralph Peters is a retired Army lieutenant colonel and former enlisted man, a controversial strategist and veteran of the intelligence world; a bestselling, prize-winning novelist; a journalist who has covered multiple conflicts and appears frequently in the broadcast media; and a lifelong traveler with experience in over seventy countries on six continents. A widely read columnist, Ralph Peters' journalism has appeared in dozens of newspapers, magazines and web-zines, including The New York Post, The Wall Street Journal, USA Today, the Washington Post, Newsweek, Harpers, and Armchair General Magazine. His books include The Officers' Club, The War After Armageddon, Endless War, and Red Army. Peters grew up in Schuylkill County, Pennsylvania, and studied writing at Pennsylvania State University. He lives and writes in the Washington, D.C. area.
Praise For…
---
"If Thucydides and Tolstoy together were commissioned to write a historical novel about the American Civil War, the result would be something like Ralph Peters' The Damned of Petersburg. Combining unflinching Thucydidean realism about warfare with Tolstoyan empathy for humanity, Peters recreates the bloody Petersburg campaign through the eyes and in the words of the men who lived and died during it. Anyone who wants to understand why the Civil War is the defining event in American history should read this deeply researched and beautifully written epic." —Guy MacLean Rogers, Kenan Professor of Classics and History, Wellesley College. Author of Alexander: The Ambiguity of Greatness

"Ralph Peters does it again! You are there in the trenches. You are there in the Crater. You are there in hell with The Damned of Petersburg, yet another brilliant addition to the best series of Civil War novels ever written." —William Martin, New York Times bestselling author of The Lincoln Letter

"No one can come close to Peters' unique combination of passion and pride and tragedy. I predict that The Damned of Petersburg will be a classic that people will read for the next fifty years." —Thomas Fleming, author of The Secret Trial of Robert E. Lee

"In this excellent historical novel, Ralph Peters has brought to life the desperate fighting that flared around Petersburg and Richmond in the summer and autumn of 1864, the crisis of our Civil War. With fine maps, the gripping prose conveys how the fighting felt…a must-read for Civil War novice and aficionado alike." —John Horn, author of The Siege of Petersburg

"Peters' research is impeccable. His account of life in the trenches is told by the actual participants, from the common soldier to the higher-grade officers. Readers can only feel as if they were participants in that dirty, hot summer of 1864, with death constantly facing them." —Chris Calkins, former National Park Historian at the Petersburg National Battlefield and author of The Appomattox Campaign

"Peters creates a superbly detailed retelling of the Civil War...fast-paced...thoughtful...magnificent." —Kirkus Reviews, starred review

"The writing is very engaging and the use of period and regional slang is superb (Faulkner, eat your heart out.) The descriptions are also very graphic, showing in detail how brutal that war was." —Historical Novel Society

"An extraordinary novel taking readers into the heart of the Civil War. Ralph Peters has masterfully captured each and every detail. It was fascinating from page one and still captivated me until the ending." —Manhattan Book Review (five stars)

"A gifted writer and superb storyteller . . . powerful . . . Peters' brilliant narrative evokes what soldiers on both sides saw, felt, smelled and, ultimately, endured in combat as well as in daily camp life. Every single word seems carefully chosen." —historynet.com