Jacinda Ardern: Leading with Empathy (Hardcover)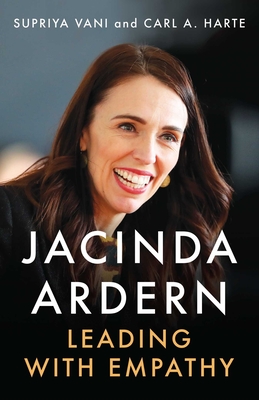 $27.95
Coming Soon—Pre-Order Now
Description
---
Jacinda Ardern was swept to office in 2017 on a wave of popular enthusiasm dubbed 'Jacindamania'. In less than three months, she rose from deputy leader of the opposition to New Zealand's highest office. Her victory seemed heroic. Few in politics would have believed it possible; fewer still would have guessed at her resolve and compassionate leadership, which, in the wake of the horrific Christchurch mosque shootings of March 2019, brought her international acclaim. Since then, her decisive handling of the COVID-19 pandemic has seen her worldwide standing rise to the point where she is now celebrated as a model leader. In 2020 she won an historic, landslide victory and yet, characteristically, chose to govern in coalition with the Green Party.

Jacinda Ardern: Leading with Empathy carefully explores the influences – personal, social, political and emotional – that have shaped Ardern. Peace activist and journalist Supriya Vani and writer Carl A. Harte build their narrative through Vani's exclusive interviews with Ardern, as well as the prime minister's public statements and speeches and the words of those who know her. We visit the places, meet the people and understand the events that propelled the daughter of a small-town Mormon policeman to become a committed social democrat, a passionate Labour Party politician and a modern leader admired for her empathy and courage.
About the Author
---
Supriya Vani is the author of Battling Injustice: 16 Women Nobel Peace Laureates. A noted peace activist and human rights campaigner, she is a board member of the Hague Justice Portal. She is also the education and peace ambassador for Caravan for Peace. She lives in New York.

Carl A. Harte is an Australian writer and book editor. The recipient of an eLit Gold Award for his book, Building Your Own Home, he has worked with a number of authors including the late former President of India. He lives in India.
Praise For…
---
'Battling Injustice will educate people about gender equality and inspire women to rise up to their potential. It will inspire parents not clip the wings of their daughters. All our girls are meant for the stars, they need equality and freedom to flourish.'
— Nobel Laureate Malala Yousafzai and her father Ziauddin Yousafzai on Battling Injustice

'The lives of the women Nobel Peace laureates…are clear evidence of my belief that women are naturally more sensitive to others' needs and well-being… Therefore, when, as now, compassionate leadership is required, women should take on a greater role in making this world a better place.'
— His Holiness the Dalai Lama on Battling Injustice