George, Nicholas and Wilhelm: Three Royal Cousins and the Road to World War I (Paperback)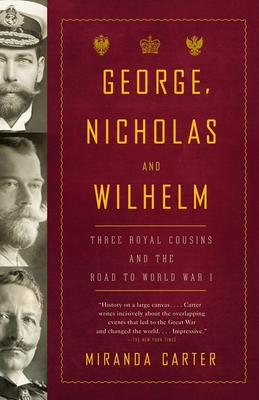 $22.00

In Stock—Click for Locations
Description
---
In the years before the First World War, the great European powers were ruled by three first cousins: King George V of Britain, Kaiser Wilhelm II of Germany, and Tsar Nicholas II of Russia. Together, they presided over the last years of dynastic Europe and the outbreak of the most destructive war the world had ever seen, a war that set twentieth-century Europe on course to be the most violent continent in the history of the world.
 
Through brilliant and often darkly comic portraits of these men and their lives, their foibles and obsessions, Miranda Carter delivers the tragicomic story of Europe's early twentieth-century aristocracy, a solipsistic world preposterously out of kilter with its times.
About the Author
---
Miranda Carter is the author of Anthony Blunt: His Lives, which won the Orwell Prize for political writing and the Royal Society of Literature W. H. Heinemann Award, and was chosen as one of The New York Times Book Review's seven Best Books of 2002. She lives in London with her husband and two sons.
Praise For…
---
"History on a large canvas. . . . Carter writes incisively about the overlapping events that led to the Great War and changed the world. . . . Impressive. . . . Carter has clearly not bitten off more than she can chew for she—as John Updike once wrote of Gunter Grass—'chews it enthusiastically before our eyes.'"
—The New York Times

"Splendid. . . . This is history on a vast scale written on an intimate level, and it is immensely rewarding. . . . [Carter's] portraits of the men are razor-sharp. She places each monarch in his unique context, providing a tapestry of the age and the maneuvering that led to the outbreak of war. . . . The reader is swept up in the pageantry, pathos and glory of an era that makes our own seem remorselessly venial and vulgar."
—Minneapolis Star Tribune

"Engrossing and important. . . . While keeping her focus on the three cousins and their extended families, [Carter] skillfully interweaves and summarizes all important elements of how the war came about. . . . An original book, highly recommended."
—The Dallas Morning News

"A fascinating biographical saga. . . . The personal, hidden history of King George V, Tsar Nicholas II and Kaiser Wilhelm II's relationship [is] incomparable, haunting and unforgettable."
—Providence Journal

"The parallel, interrelated lives of Kaiser Wilhelm II, George V, and Nicholas II are . . . a prism though which to tell the march to the first World War, the creation of the modern industrial world and the follies of hereditary courts and the eccentricities of their royal trans-European cousinhood. . . . An entertaining and accessible study of power and personality."
—Simon Sebag Montefiore, Financial Times

"Some wars are inevitable. Others, such as World War I, could have been avoided. . . . Relying on apt quotations and instructive anecdotes, Carter, in this always readable history, persuasively relates [the royal cousins'] role in beginning a war that was supposed to end all wars."
—Richmond Times Dispatch
 
"Entertaining and well-researched, with acute pen portraits of the major players."
—The Wall Street Journal
 
"I couldn't put this book down. The whole thing really lives and breathes—and it's very funny. That these three absurd men could ever have held the fate of Europe in their hands is a fact as hilarious as it is terrifying."
—Zadie Smith

"History at its most entertaining, full of scathing and often witty descriptions of the follies and tragedies of royalty, and the way in which the three royal cousins' lives, despite the deep social divide between the royals and ordinary people, became intertwined with the changes and the dangers confronting the major European powers in the early years of the 20th century. It is a splendid picture, splendidly narrated."
—Michael Korda, The Daily Beast
 
"Fresh and enjoyable. . . . Carter's thoughtful reintroduction of the vividly human to late 19th-century international politics is timely and welcome."
—The Guardian (London)
 
"Carter deftly interpolates history with psychobiography to provide a damning indictment of monarchy in all its forms."
—Will Self, New Statesman
 
"An attractively written, extensively illustrated work."
—The Washington Times
 
"Masterfully crafted. . . . Carter has presented one of the most cohesive explorations of the dying days of European royalty and the coming of political modernity. . . . [She] has delivered another gem."
—BookPage
 
"An irresistibly entertaining and illuminating chronicle. . . . Readers with fond memories of Robert Massie and Barbara Tuchman can expect similar pleasures in this witty, shrewd examination of the twilight of the great European monarchies."
—Publishers Weekly
 
"Carter draws masterful portraits of her subjects and tells the complicated story of Europe's failing international relations well. . . . A highly readable and well-documented account."
—The Spectator