Joker One: A Marine Platoon's Story of Courage, Leadership, and Brotherhood (Compact Disc)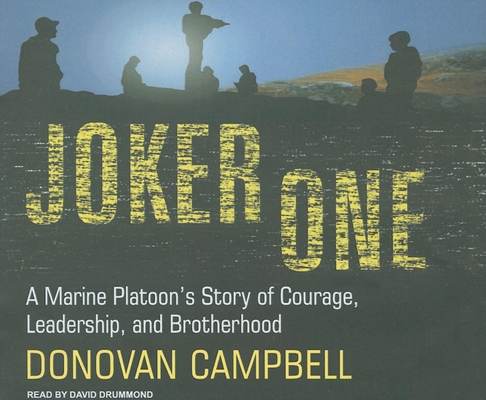 $34.99
Special Order—Subject to Availability
Description
---
When Donovan Campbell's platoon deployed to Ramadi in the spring of 2004, they believed they'd be spending most of their time building schools, training police, and making friends with the citizens. But shortly after arriving, when Campbell awoke to the chilling cry of "Jihad, Jihad, Jihad " echoing from minaret to minaret across the city, he knew they had an altogether different situation on their hands. For nearly the entire day, Joker-One-the forty-man infantry platoon that Campbell was charged with leading-fought house-to-house to rescue other units, sometimes trading grenades with their enemies from just a few feet away. In the days and months that followed, hundreds of hard-core insurgents launched simultaneous attacks on the Marine forces in Ramadi, their ranks swelled by thousands of local volunteers drawn from the citizens of a city whose primary export was officers in Saddam Hussein's army. By the fall of 2004, nearly half the men in Campbell's platoon had been wounded in some of the fiercest urban fighting since Vietnam; less than a month after they withdrew, the forces in Ramadi were doubled, then tripled. Although Joker One is set in Iraq, the book's themes-brotherhood, honor, and sacrifice-are universal. Campbell shows us how his Marines' patience, discipline, and love for one another created a whole that is much greater than the sum of its parts, and how the essential goodness of these men remains unchanged by all of the pain and the terror surrounding them. His sharp-eyed, evocative, and unflinching account of his deployment is just as impressive as the man himself-a man who chose to enter the military because of his patriotism, sense of privilege, and deep religious faith when most of his Princeton classmates were cashing in their ivy league educations for lucrative careers among the financial elite. The vivid and gripping battle scenes will satisfy fans of military memoirs, but it's Campbell's sense of duty, faith, and love for his men that makes Joker One a truly extraordinary account of a war that has touched us all.
About the Author
---
U.S. Marine captain Donovan Campbell finished first in his class at the Marines' Basic Officer Course, served two combat deployments in Iraq, and is now on his third combat deployment to Afghanistan.

David Drummond has made his living as an actor for over twenty-five years, and he received an "AudioFile" Earphones Award for his first audiobook, "Love 'Em or Lose 'Em."
Praise For…
---
"Beautiful and harrowing.... A" ---Entertainment Weekly