Suffrage: The Epic Struggle for Women's Right to Vote (Hardcover)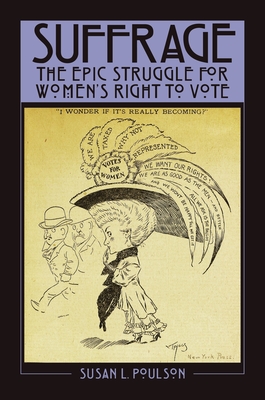 $50.00
Special Order—Subject to Availability
Description
---
What was it like to be among the founders of the women's movement in the middle of the nineteenth century, with no script to follow and self-doubt dogging their every move? This book not only reminds us of the laws that conspired against women's equality in the post-Civil War United States, but it also illustrates--through the eyes of the suffragists themselves--the cultural and religious norms that had held women in second-class status for centuries. Early suffragists grappled with isolation and outright hostility as they lectured around the nation, even as they tried to reassure the public that politicized women would still serve the family. Others espoused outrage by organizing public protests.
This book shows how lasting political change comes about through a combination of working from within the system and outside of it, and deftly illustrates the tensions within the movement. Although the vote was finally won in 1920, it was not without tremendous sacrifice. The book lays bare the strategies that led to the single-minded focus on the vote and the consequences of postponing action on so many other issues that remained for later generations to address, including reproductive freedom, labor rights, and equal pay.
About the Author
---
Susan L. Poulson is professor of U.S. history at the University of Scranton in Pennsylvania, where she teaches courses in women's history and 20th century U.S. hHistory.