The Burn Pits: The Poisoning of America's Soldiers (Hardcover)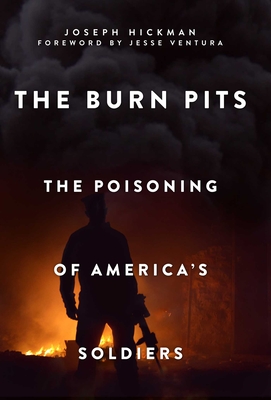 $21.99
Not On Our Shelves—Ships in 1-5 Days
Description
---
"There's a whole chapter on my son Beau… He was co-located [twice] near these burn pits."
–Joe Biden, former Vice President of the United States of America

The Agent Orange of the 21st Century… Thousands of American soldiers are returning from the battlefields of Iraq and Afghanistan with severe wounds from chemical war. They are not the victims of ruthless enemy warfare, but of their own military commanders. These soldiers, afflicted with rare cancers and respiratory diseases, were sickened from the smoke and ash swirling out of the "burn pits" where military contractors incinerated mountains of trash, including old stockpiles of mustard and sarin gas, medical waste, and other toxic material.

This shocking work includes:


Illustration of the devastation in one soldier's intimate story

A plea for help

Connection between the burn pits and Major Biden's unfortunate suffering and death

The burn pits' effects on native citizens of Iraq: mothers, fathers, and children

Denial from the Department of Defense and others

Warning signs that were ignored

and much more

Based on thousands of government documents, over five hundred in-depth medical case studies, and interviews with more than one thousand veterans and active-duty GIs, The Burn Pits will shock the nation. The book is more than an explosive work of investigative journalism—it is the deeply moving chronicle of the many young men and women who signed up to serve their country in the wake of 9/11, only to return home permanently damaged, the victims of their own armed forces' criminal negligence.
About the Author
---
Joseph Hickman spent most of his life in the military, first as a Marine, then as a soldier in both the Army and the National Guard. He has deployed on several military operations throughout the world, sometimes attached to foreign militaries. The recipient of more than twenty commendations and awards, he was awarded the Army Achievement Medal and the Army Commendation Medal while he was stationed with the 629th Military Intelligence Battalion in Guantanamo Bay. He is currently working as freelance journalist covering national security issues, and corporate fraud. He is also an independent researcher, and Senior Research Fellow at Seton Hall Law School's Center for Policy and Research. His revelations about the abuse of prisoners at Gitmo resulted in a National Magazine Award–winning story in Harper's magazine and a 2015 book, Murder at Camp Delta. He has also written for Newsweek, TIME, VICE News, and Al-Jazeera America.

Jesse Ventura is the former independent governor of Minnesota. He is also a former US Navy frogman, a professional wrestler, a movie actor, a visiting fellow at Harvard Kennedy School of Government, and the New York Times bestselling author of seven books, including American Conspiracies, 63 Documents the Government Doesn't Want You to Read, and Don't Start the Revolution Without Me! He was the host and executive producer of truTV's Conspiracy Theory with Jesse Ventura, which won the Stony Award from High Times magazine in 2010. He was also the host of the political talk show Off The Grid, which aired on RT America and online at Ora.tv. He has a reputation as a rebel and a freethinker, and he has no qualms about questioning authority. He spends half the year in Baja, Mexico and the other half in his home state of Minnesota.
Praise For…
---
"There's a whole chapter on my son Beau in there, and that stunned me… [Hickman] went back and looked at Beau's tenure as a civilian with the U.S. attorney's office [in Kosovo] and then his year in Iraq. And he was co-located in both times near these burn pits."
–Joe Biden, former Vice President of the United States of America

"Shocking and ugly. Glad this story is finally coming out."
–Oliver Stone, Academy Award-winning Director

"The first 10 pages of The Burn Pits: The Poisoning of America's Soldiers will rip your heart out."
–Liam O'Donoghue, Salon

"[A]n incredibly powerful, painful book…[the] tragic saga is presented in a way that a reader can't possibly come away either disbelieving or unmoved. This is a REAL service to our country and I commend Joseph Hickman for bringing the terrible story to light. [I] believe this will serve as a call-to-action for the veterans and all those who care about their plight."
–Dick Russell, New York Times bestselling author

"Joseph Hickman's The Burn Pits is a wake-up call to all of us that we'd better rise up and reclaim our birthright as Americans… This is a book that will not only make your blood boil, it'll coagulate. I mean, blood-curdling isn't a strong enough metaphor. The Burn Pits pulls no punches."
–Jesse Ventura, New York Times bestselling author

"Though the underlying cause of [Vice President Joe Bide's son, Beau Biden]'s cancer cannot be confirmed, evidence gathered in [The Burn Pits] suggests a possible link between his illness and service."
–Lauren Walker, The Guardian

"In The Burn Pits: The Poisoning of America's Soldiers, Joseph Hickman, a former U.S. Marine and Army sergeant gives a stunning expose of the ongoing health disaster created by the open-air burn pits on military bases throughout Afghanistan and Iraq, calling them the Agent Orange scandal of our day."
–James Baumann, Iraq and Afghanistan Veterans of America

"[Former Vice President Joe Biden] said that reading The Burn Pits: The Poisoning of America's Soldiers… opened his eyes to the possibility of a link to his son's cancer."
–Dan Sagalyn, PBS NewsHour, Deputy Foreign Affairs and Defense Editor

"Thought provoking, sobering, and infuriating at the same time, The Burn Pits hits the mark on many levels… It was the Vietnam War's Agent Orange all over again blended with the acrid fallout of the World Trade Center's 'Ground Zero'… "
–James Grundvig, The Epoch Times

"An important book."
–The Huffington Post

"[The Burn Pits] really shocked and angered me and I decided to try to bring the story of this crisis to a larger audience… We are trying to reach everybody. Most people have not heard about the crisis of the burn pits and ultimately we will need the general public to help create awareness of this tragic issue affecting thousands of soldiers so that they are ultimately recognized and compensated."
–Gregory Lovett, Film Director, Delay, Deny, Hope You Die, a documentary based on The Burn Pits: The Poisoning of America's Soldiers

"[This] incendiary book, The Burn Pits: The Poisoning of America's Soldiers… [is] a provocative look behind the massive burn pits of Iraq and Afghanistan, detailing a chilling history of sickness and systematic neglect from higher ups… Hickman's account is probably the most thorough and expansive take on burn pits so far, going so far as to implicate KBR, who ran the burn pits, and Gen. David Petraeus, who initially denied that burn pits were harmful."
–Scott Beauchamp, Task & Purpose

"The Burn Pits… tells an enormous story… An important book that should be on the shelf of every high school library across the United States."
–John Ketwig, The Veteran

"There are a million reasons for Americans to read this devastating account of how we're neglecting our veterans. The Burn Pits is extremely well-written, tightly structured, and Hickman's compassion for his fellow soldiers is heartbreaking. But what few reviewers seem to be emphasizing is that Hickman is not just concerned about our veterans who are dying from the toxic plumes of the American burn pits. It's not just Americans whose bodies are destroying themselves in a collective vertigo of white spots, leukemia, apnea, bronchitis, cold sweats, migraines, memory loss, nausea, and brain cancer. It's not just Beau Biden… But what those mainstream publications fail to emphasize is the incredibly uncomfortable reality that Hickman describes with such vivid detail in The Burn Pits. In short, "Iraq is poisoned," and America has been providing the toxins for years… If you are a citizen concerned with what both Sanders and Trump referred to as "the worst foreign policy blunder in U.S. history," then you should read this book. The Burn Pits is a map for activism. If you are interested in solving one of the great health care problems of our time, read this book. If you are interested in helping American service members solve the political problem of bureaucratic resistance in the VA that dates back to the days of Agent Orange and Gulf War Syndrome, read this book."
–M. C. Armstrong, author and Pushcart Prize winner

"The word "incinerate," suggesting an enclosed burning facility with pollution controls, is misleading. These barbaric burn pits were dug on military bases in the midst of housing, work and dining facilities, with zero pollution controls… And predictably, base commanders temporarily shut them down when politicians and high-ranking generals came to visit… In his no-holds-barred book, The Burn Pits: The Poisoning of America's Soldiers," former Marine and Army Joseph Hickman exposes the knowing contamination of thousands of soldiers stationed on bases with these lethal pits."
–H. Patricia Hynes, TruthDig

*** What readers are saying about The Burn Pits***

"A chronicle of the mistreatment of our military men and women and of the neglect of our veterans. As the mother of two sons who served and a brother who died of cancer after Nam, I wanted to scream! Anyone thinking of joining the military should read this book first."
–Barb LaPierre, Goodreads Reviewer

"Nothing in this book can change what happened. But reading our story, told so brilliantly, fills me with gratitude that it is being told."
–Rick A., Amazon Reviewer

"I thought the U.S. wrongly using chemicals and simultaneously poisoning its own soldiers ended with the Vietnam War. Unfortunately, I was wrong. Joseph Hickman, a former US Marine and Army Sergeant tells the poignant and shocking story of the chemical war practiced on GIs in Iraq and Afghanistan—by their own commanding officers."
–Liz Edorssom, Goodreads Reviewer

"This book needs to be in every service members hands (active and veteran)! Good read, engaging and thought provoking. Buy this book!"
–John Stoddard, Amazon Reviewer

"Everyone who cares about our veterans should read this well researched book about the toxic burn pits of the Middle East. We may have injured another generation of veterans and we need to fully investigate and help those affected, before it is too late for them."
–Bill Crowley, Amazon Reviewer

"There are many disturbing facts in this book. At certain points, I couldn't quite believe what I was reading."
–Jamie Rose, Goodreads Reviewer

"Interesting and more anger toward our military and Congress. Agent Orange all over again. We need to hold the military accountable."
–Paul Kukuk, Goodreads Reviewer

*** From author Joseph Hickman ***

"We have tens of thousands of veterans right now that are sick or dying and no one is treating them right or taking care of them… I've donated my royalties to an organization called Burn Pits 360, so if you read the book, not only do you become aware of it, the money is actually going to a non-profit organization that will help these soldiers directly."
–Joseph Hickman, Blue Funk Radio

"…KBR must provide compensation to sick veterans. It is what's owed to the service members who selflessly went to war on behalf of the United States."
–Joseph Hickman, Vice News

*** Praise for Skyhorse Publishing ***

"In the era of corporate dominated mainstream media and feckless herd reporting, Skyhorse's willingness to tackle tough issues that other publishers won't touch has made it a critical cog in our democracy."
–Robert F. Kennedy Jr., New York Times bestselling author

"It has been a pleasure watching Skyhorse Publishing develop into one of the largest and fastest-growing independent publishers over the last decade. Trident does a good deal of business with Skyhorse. Skyhorse has become a cornerstone of independent publishing and has taken its rightful seat in the world of major trade publishing."
–Robert Gottlieb, chairman of Trident Media Group, LLC

"There's a whole chapter on my son Beau in there, and that stunned me… [Hickman] went back and looked at Beau's tenure as a civilian with the U.S. attorney's office [in Kosovo] and then his year in Iraq. And he was co-located in both times near these burn pits."
–Joe Biden, former Vice President of the United States of America

"Shocking and ugly. Glad this story is finally coming out."
–Oliver Stone, Academy Award-winning Director

"The first 10 pages of The Burn Pits: The Poisoning of America's Soldiers will rip your heart out."
–Liam O'Donoghue, Salon

"[A]n incredibly powerful, painful book…[the] tragic saga is presented in a way that a reader can't possibly come away either disbelieving or unmoved. This is a REAL service to our country and I commend Joseph Hickman for bringing the terrible story to light. [I] believe this will serve as a call-to-action for the veterans and all those who care about their plight."
–Dick Russell, New York Times bestselling author

"Joseph Hickman's The Burn Pits is a wake-up call to all of us that we'd better rise up and reclaim our birthright as Americans… This is a book that will not only make your blood boil, it'll coagulate. I mean, blood-curdling isn't a strong enough metaphor. The Burn Pits pulls no punches."
–Jesse Ventura, New York Times bestselling author

"Though the underlying cause of [Vice President Joe Bide's son, Beau Biden]'s cancer cannot be confirmed, evidence gathered in [The Burn Pits] suggests a possible link between his illness and service."
–Lauren Walker, The Guardian

"In The Burn Pits: The Poisoning of America's Soldiers, Joseph Hickman, a former U.S. Marine and Army sergeant gives a stunning expose of the ongoing health disaster created by the open-air burn pits on military bases throughout Afghanistan and Iraq, calling them the Agent Orange scandal of our day."
–James Baumann, Iraq and Afghanistan Veterans of America

"[Former Vice President Joe Biden] said that reading The Burn Pits: The Poisoning of America's Soldiers… opened his eyes to the possibility of a link to his son's cancer."
–Dan Sagalyn, PBS NewsHour, Deputy Foreign Affairs and Defense Editor

"Thought provoking, sobering, and infuriating at the same time, The Burn Pits hits the mark on many levels… It was the Vietnam War's Agent Orange all over again blended with the acrid fallout of the World Trade Center's 'Ground Zero'… "
–James Grundvig, The Epoch Times

"An important book."
–The Huffington Post

"[The Burn Pits] really shocked and angered me and I decided to try to bring the story of this crisis to a larger audience… We are trying to reach everybody. Most people have not heard about the crisis of the burn pits and ultimately we will need the general public to help create awareness of this tragic issue affecting thousands of soldiers so that they are ultimately recognized and compensated."
–Gregory Lovett, Film Director, Delay, Deny, Hope You Die, a documentary based on The Burn Pits: The Poisoning of America's Soldiers

"[This] incendiary book, The Burn Pits: The Poisoning of America's Soldiers… [is] a provocative look behind the massive burn pits of Iraq and Afghanistan, detailing a chilling history of sickness and systematic neglect from higher ups… Hickman's account is probably the most thorough and expansive take on burn pits so far, going so far as to implicate KBR, who ran the burn pits, and Gen. David Petraeus, who initially denied that burn pits were harmful."
–Scott Beauchamp, Task & Purpose

"The Burn Pits… tells an enormous story… An important book that should be on the shelf of every high school library across the United States."
–John Ketwig, The Veteran

"There are a million reasons for Americans to read this devastating account of how we're neglecting our veterans. The Burn Pits is extremely well-written, tightly structured, and Hickman's compassion for his fellow soldiers is heartbreaking. But what few reviewers seem to be emphasizing is that Hickman is not just concerned about our veterans who are dying from the toxic plumes of the American burn pits. It's not just Americans whose bodies are destroying themselves in a collective vertigo of white spots, leukemia, apnea, bronchitis, cold sweats, migraines, memory loss, nausea, and brain cancer. It's not just Beau Biden… But what those mainstream publications fail to emphasize is the incredibly uncomfortable reality that Hickman describes with such vivid detail in The Burn Pits. In short, "Iraq is poisoned," and America has been providing the toxins for years… If you are a citizen concerned with what both Sanders and Trump referred to as "the worst foreign policy blunder in U.S. history," then you should read this book. The Burn Pits is a map for activism. If you are interested in solving one of the great health care problems of our time, read this book. If you are interested in helping American service members solve the political problem of bureaucratic resistance in the VA that dates back to the days of Agent Orange and Gulf War Syndrome, read this book."
–M. C. Armstrong, author and Pushcart Prize winner

"The word "incinerate," suggesting an enclosed burning facility with pollution controls, is misleading. These barbaric burn pits were dug on military bases in the midst of housing, work and dining facilities, with zero pollution controls… And predictably, base commanders temporarily shut them down when politicians and high-ranking generals came to visit… In his no-holds-barred book, The Burn Pits: The Poisoning of America's Soldiers," former Marine and Army Joseph Hickman exposes the knowing contamination of thousands of soldiers stationed on bases with these lethal pits."
–H. Patricia Hynes, TruthDig

*** What readers are saying about The Burn Pits***

"A chronicle of the mistreatment of our military men and women and of the neglect of our veterans. As the mother of two sons who served and a brother who died of cancer after Nam, I wanted to scream! Anyone thinking of joining the military should read this book first."
–Barb LaPierre, Goodreads Reviewer

"Nothing in this book can change what happened. But reading our story, told so brilliantly, fills me with gratitude that it is being told."
–Rick A., Amazon Reviewer

"I thought the U.S. wrongly using chemicals and simultaneously poisoning its own soldiers ended with the Vietnam War. Unfortunately, I was wrong. Joseph Hickman, a former US Marine and Army Sergeant tells the poignant and shocking story of the chemical war practiced on GIs in Iraq and Afghanistan—by their own commanding officers."
–Liz Edorssom, Goodreads Reviewer

"This book needs to be in every service members hands (active and veteran)! Good read, engaging and thought provoking. Buy this book!"
–John Stoddard, Amazon Reviewer

"Everyone who cares about our veterans should read this well researched book about the toxic burn pits of the Middle East. We may have injured another generation of veterans and we need to fully investigate and help those affected, before it is too late for them."
–Bill Crowley, Amazon Reviewer

"There are many disturbing facts in this book. At certain points, I couldn't quite believe what I was reading."
–Jamie Rose, Goodreads Reviewer

"Interesting and more anger toward our military and Congress. Agent Orange all over again. We need to hold the military accountable."
–Paul Kukuk, Goodreads Reviewer

*** From author Joseph Hickman ***

"We have tens of thousands of veterans right now that are sick or dying and no one is treating them right or taking care of them… I've donated my royalties to an organization called Burn Pits 360, so if you read the book, not only do you become aware of it, the money is actually going to a non-profit organization that will help these soldiers directly."
–Joseph Hickman, Blue Funk Radio

"…KBR must provide compensation to sick veterans. It is what's owed to the service members who selflessly went to war on behalf of the United States."
–Joseph Hickman, Vice News

*** Praise for Skyhorse Publishing ***

"In the era of corporate dominated mainstream media and feckless herd reporting, Skyhorse's willingness to tackle tough issues that other publishers won't touch has made it a critical cog in our democracy."
–Robert F. Kennedy Jr., New York Times bestselling author

"It has been a pleasure watching Skyhorse Publishing develop into one of the largest and fastest-growing independent publishers over the last decade. Trident does a good deal of business with Skyhorse. Skyhorse has become a cornerstone of independent publishing and has taken its rightful seat in the world of major trade publishing."
–Robert Gottlieb, chairman of Trident Media Group, LLC