Oedipus; or, The Legend of a Conqueror (Studies in Violence, Mimesis & Culture) (Paperback)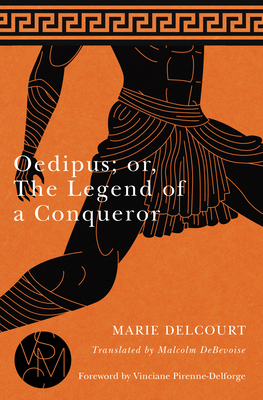 $29.95
In Stock—Click for Locations
Description
---
Marie Delcourt's brilliant study of the Oedipus legend, an unjustly neglected monument of twentieth-century classical scholarship published in 1944 and issued here for the first time in English translation, bridges the gap between Carl Robert's influential Oidipus (1915) and the work of Lowell Edmunds seventy years later. Delcourt studies the legend in its various aspects, six episodes that have equal weight and that stress the same themes: greatness, conquest, domination, the right to rule—all of them bound up with the idea of kingship. Together they form the biography of a Theban hero, the fullest account that has come down to us about the prehistory of sovereign power among the ancient Greeks. Delcourt does not suppose that Oedipus, or indeed any other Greek hero, was a historical figure. The personality familiar to us from the plays of the tragedians of the fifth century—our oldest source, and a very late one—was the result of their extraordinary artistry in linking together themes rooted in very ancient social and religious rites that in the interval had come to describe the feats of Oedipus, then his life, and finally his character. It was in order to explain these rites, whose meaning had ceased to be understood, that myths and legends were invented in the first place. Oedipus, Delcourt argues, is the archetype of all heroes of essentially (if not exclusively) ritual origin, whose acts were prior to their person. This is a very different— and far more complex—Oedipus than the one rather implausibly imagined by Freud. More generally, the origin and transmission of the Oedipus legend tells us a great deal about the strength and persistence of public memories in prehistoric societies.
About the Author
---
MARIE DELCOURT (1891–1979) was Professor of Classical Philology at the University of Liège for more than three decades and the author of many works, including translations, biographies, and studies in the mythology and religion of ancient Greece.
MALCOLM DEBEVOISE is a three-time winner of the French-American Foundation Prize for nonfiction and has translated more than forty works from French and Italian in all branches of scholarship.
Praise For…
---
"Marie Delcourt's book about the ritual origins of the Oedipus myth is a masterpiece. It reveals the archaic foundations of human societies and remains as enlightening and useful as it was when it first appeared seventy years ago."
—LUCIEN SCUBLA, École des Hautes Études en Sciences Sociales, Paris, and author of Giving Life, Giving Death: Psychoanalysis, Anthropology, Philosophy