Useless Miracle (Paperback)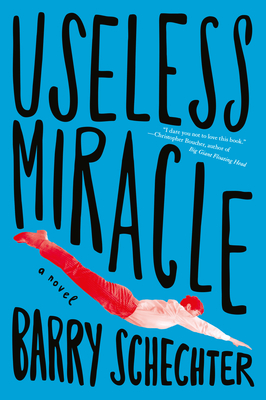 $16.99

Not On Our Shelves—Ships in 1-5 Days
Description
---
A classic, smart comedy in which a college professor attains mankind's oldest dream: the ability to fly...sort of...

George Entmen just turned forty, and he can't complain. He is a respected hermeneutics professor, beloved by friends and family, and ready to drift quietly into tenured middle age. But then, he discovers he can fly.

Sure, he can only fly very, very slowly, and he only flies three or four inches above the ground . . . But why does this nonetheless amazing phenomenon drive so many people into a rage? Why do he and his family find themselves dodging livid magicians, scheming billionairesses, and, perhaps worst of all, angry hermeneuticians?

Beneath all the chaos, his gift has to have a meaning. But to find it, George needs to understand one thing his friend and guru keeps telling him: "You're not flying, you're being flown."
About the Author
---
Barry Schechter is the author of the novel The Blindfold Test. His short fiction, poetry, and criticism have appeared in the Paris Review, the Chicago Tribune, and the Chicago Review. He's a lifelong resident of Chicago.
Praise For…
---
"Just a cunning party trick? Or a true 21st Century miracle? It is a nice little riddle and, as the plot thickens, George [Entmen] proves such an engagingly self-deprecating narrator that you want to know where his strange odyssey will end." —The Daily Mail

"You might think it'd be difficult to contemplate philosophical matters with your nose four inches from the carpet, but Barry Schechter, writing with an incisive eye, a spry mind, and a towering heart, not only pilots us through a turbulent set of Big Questions but even arrives at the answers, arguing sublimely for the value of living a dignified life in hilariously undignified times." —Jeremy P. Bushnell, author of The Weirdness

"One of the funniest novels I've ever read. I dare you not to love this book – not to hoot out loud at every page, nor marvel at the novel's poignant social satire, genuine warmth, and careening twists and turns. Useless Miracle is a necessary wonder." —Christopher Boucher, author of How to Keep Your Volkswagen Alive

"Schechter deftly balances lush and descriptive prose with humorous dialogue, creating a complex plot from a mundane miracle and a cast of witty characters."—The Arkansas International

Praise for Barry Schechter's The Blindfold Test

"Barry Schechter regards the dirty tricks with which life undoes his protagonist with a kind of glee. We are reminded that Kafka was supposed to have held his sides laughing while he read friends his stories." —Lore Segal, author of Half the Kingdom 

"The Blindfold Test is a beautiful and terrifying pleasure, a metaphysically witty novel rich with melancholy joie de vivre." —Matthew Sharpe, author of The Sleeping Father 

"Schechter . . . skews the horrible world to just the right kind of acceptable lunacy." —Han Ong, author of The Disinherited

"The kind of novel Woody Allen and Hunter S. Thompson would've written together if they could've gotten along … That Schechter can combine HST's gonzo morality and pacing with Allen's deadpan is almost too much. But still, we couldn't get enough."  —Jonathan Messinger, TimeOut Chicago
 
"Part-comedy, part-thriller . . . The Blindfold Test is blanketed with paranoia, quite Kafkaesque . . ." —New City Lit

"The slapstick comedy . . . never entirely drowns out an undercurrent of hard-won paranoia. And the best thing that Schechter does, the thing that earns his book a deserved double take, happens when you hear the conspiratorial whispers yourself." —Philadelphia City Paper

"A funny book with lots of local color." —Chicago Reader

"A playful and thought-provoking book about how—and whether—we accept our fate." —The Second Pass