War Flower: My Life after Iraq (Hardcover)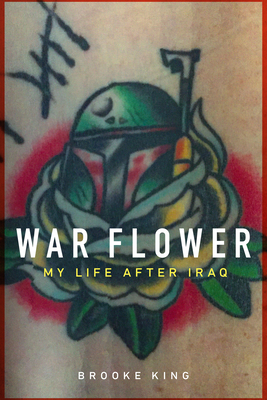 $28.95
Not On Our Shelves—Ships in 1-5 Days
Description
---
Brooke King has been asked over and over what it's like to be a woman in combat, but she knows her answer is not what the public wants to hear. The answers people seek lie in the graphic details of war—the sex, death, violence, and reality of it all as she experienced it. In her riveting memoir War Flower, King breaks her silence and reveals the truth about her experience as a soldier in Iraq. Find out what happens when the sex turns into secret affairs, the violence is turned up to eleven, and how King's feelings for a country she knew nothing about as a nineteen-year-old become more disturbing to her as a thirty-year-old mother writing it all down before her memories fade into oblivion.

The story of a girl who went to war and returned home a woman, War Flower gathers the enduring remembrances of a soldier coming to grips with post-traumatic stress disorder. As King recalls her time in Iraq, she reflects on what violence does to a woman and how the psychic wounds of combat are unwittingly passed down from mother to children. War Flower is ultimately a profound meditation on what it means to have been a woman in a war zone and an unsettling exposé on war and its lingering aftershocks. For veterans such as King, the toughest lesson of service is that in the mind, some wars never end—even after you come home.
 
About the Author
---
Brooke King is an adjunct professor of English and creative writing at Saint Leo University. She served in the United States Army, deploying to Iraq in 2006 as a wheel-vehicle mechanic. Her nonfiction work has appeared in numerous publications, including Prairie Schooner and War, Literature, and the Arts, and the anthologies Red, White, and True: Stories from Veterans and Families, World War II to Present (Potomac Books, 2014) and It's My Country Too: Women's Military Stories from the American Revolution to Afghanistan (Potomac Books, 2017).
Praise For…
---
"An absolutely compelling war memoir marked by the author's incredible strength of character and vulnerability."—Kirkus, starred review
— Kirkus
"In a searing and moving memoir, King recounts her service in Iraq, her life after Iraq, and the war's lasting effects on her. . . . As she reflects on the many ways she brought the war home with her, King reveals the unique burdens borne by female veterans as they reintegrate into a society that seems oblivious to all they've been through. This is a harrowing and powerful book."—Publishers Weekly
— Publishers Weekly
"War Flower is full of such frank emotion and explicit intimacy, the story of an Iraq veteran whose perspective is alternately chilling and charming."—J. Ford Huffman, Military Times
— J. Ford Huffman
"This book is an amazing way to get to know how deeply affected people are by war in general, and how hard it is to come back to your normal life after that."—Radioactive Book Reviews
— Radioactive Book Reviews
"War Flower provides a different, but necessary perspective on modern war, and on war as a female soldier."—Jade Anna Hughes, From the Inside
— Jade Anna Hughes
"Love, regret, sex, death, mistakes, forgiveness–it's real in the military and everywhere, and nothing is easy, but people contain a million things, and the beauty of writing is that the author decides what to keep, and what to let get away."—Military Spouse Book Review
— Military Spouse Book Review
"Raw and unvarnished, as it must be, combat veteran Brooke King's memoir War Flower is a searing and unforgettable journey through death and dying, both at war and on the home front—as a child and as a mother, as a soldier and as a civilian. She somehow manages to braid several memoirs into one, offering several lenses into the battlefield of the mind, and the result is a book that has earned its place on the high shelf of American literature. While War Flower is set to 'the tuned pitch of human pain,' this is a book about survival. I've waited for this book for many years now, and yet, as I turn the last page, I'm stunned in the reading of it."—Brian Turner, author of My Life as a Foreign Country and Here, Bullet
— Brian Turner
"Searing with unapologetic candor and grit—even during its surprising, fragmented moments of breathtaking, heartbreaking poeticism—Brooke King's War Flower sweeps aside all veils of illusion regarding the impact of trauma and moral injury on the human psyche, while also illuminating the disturbing cross-generational consequences of war. For those who have asked for years: Where are the combat memoirs from women veterans? brace for impact."—Tracy Crow, coeditor of It's My Country Too: Women's Military Stories from the American Revolution to Afghanistan
— Tracy Crow
"In her memoir about a combat deployment to Iraq, army veteran Brooke King writes, 'Nothing good survives war.' I would beg to differ: King went to war, lived through months of unthinkable horrors, and returned with a very good book in her duffel bag. War Flower will leave no reader unmoved, no soul unscathed."—David Abrams, author of Brave Deeds and Fobbit
— David Abrams