Cowboys Over Iraq: Leadership from the Saddle (Hardcover)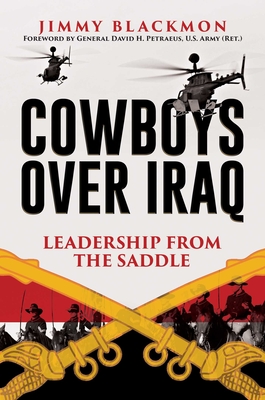 $27.00
Not On Our Shelves—Ships in 1-5 Days
Description
---
Cowboys Over Iraq tells the amazing story of leadership, innovation, and initiative demonstrated by a brotherhood that was forged in the crucible of combat during the invasion of Iraq.

"What does it take to fly and fight with America's Air Cavalry? That's the story of Cowboys Over Iraq. You'll meet bold personalities right out of a Hollywood movie. You'll be right there as Jimmy Blackmon and his fellow Cavalry troopers track down and tangle with determined foes. You'll experience the highs of triumph and the lows of bitter loss. Most importantly, you'll see how and why Jimmy Blackmon learned hard-won leadership and battle lessons in the deadly skies of Iraq. Strap in. Hang on. Get ready to go hunting with the Air Cav."—Daniel P. Bolger, Lieutenant General, U.S. Army, Retired; Commander, 1st Cavalry Division 2008–2010

"A great read by an exceptional combat aviator, leader, and writer! Jimmy Blackmon captures brilliantly the enthralling story of the air cavalry unit that was the eyes and ears of the 101st Airborne Division (Air Assault) during the fight to Baghdad and throughout the first year in Iraq—when I was privileged to command the division. He captures vividly, as well, the courage, skill, and feel for the battlefield of the gifted pilot and commander of the squadron, Lieutenant Colonel Steve Schiller, to whom we turned repeatedly when the missions were the toughest."—General David Petraeus (U.S. Army, Ret.); Commanded the 101st Airborne Division (Air Assault), Multinational Force-Iraq, US Central Command, and coalition and U.S. forces in Afghanistan
About the Author
---
Jimmy Blackmon is a retired Army Colonel, author, and speaker. He spent thirty years leading soldiers in the U.S. Army, including six operational deployments: two tours in the Balkans, two tours in Iraq, and two tours in Afghanistan.

Jimmy was the air mission commander on the mission that killed Saddam Hussein's sons—#2 and #3 on the famous Iraqi Deck of Cards. He was also involved in the battles in which four Medals of Honor were earned. Jimmy's final assignment in the military was on the Joint Staff in Washington, D.C. where he was charged with leading a select team of DoD strategists as they planned and prepared for our nation's most complex and dangerous global problems.

Jimmy is also a three-time world archery champion, and he was a member of the 1998 U.S. Armed Forces World Cross Country team. Jimmy is a General Douglas MacArthur Leadership Award recipient, Bell Helicopter Leadership Award recipient, as well as the 2017 Vistage Breakout Speaker of the Year.