Mercia: A Captivating Guide to an Anglo-Saxon Kingdom of England and the Invasions of the Vikings during the 9th Century (Hardcover)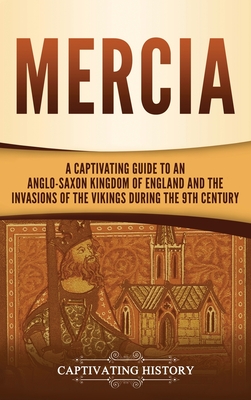 $29.99

Not On Our Shelves—Ships in 1-5 Days
Description
---
If you want to discover the captivating history of Mercia, then keep reading...
The Kingdom of Mercia lasted for more than five hundred years. Such a long period of time brought change to all aspects of Mercian life, and it is the role of history and this book to follow that change through the centuries. But it wasn't just the kings and queens that changed. The events of the period resonated within social and cultural life, religious beliefs, artistic expression, and trade. Everything evolved under the patronage of Mercia.
We are able to understand these changes as they are still ongoing in modern times. The world we are living in is constantly shifting and developing, and as people, we are no different than the Anglo-Saxons from the old times. As such, it is no wonder we show interest in their way of life and the persons who ruled them. In fact, it is almost as if we feel a deep connection with the society of our ancestors, as if we feel there is some familiarity. The distance that separates our time from theirs is what makes this familiarity even more interesting.
In Mercia: A Captivating Guide to an Anglo-Saxon Kingdom of England and the Invasions of the Vikings during the 9th Century, you will discover topics such as
The Origins of Mercia
The Builders of Mercia
A New Dynasty
Court, Church, Country, and the People
The Vikings Are Coming
The Rise of Wessex
The Last Queen of Mercia
Mercia the Earldom
And much, much more
So if you want to learn more about Mercia, scroll up and click the "add to cart" button