Seeds And Stems (Paperback)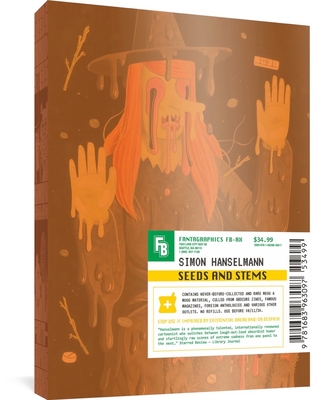 $29.99

In Stock—Click for Locations
Description
---
A spectacular omnibus of never-before-collected Megg, Mogg & Owl short comics, and more!
In 2016, Hanselmann began producing Xeroxed zines starring the depressive Megg (a green-skinned witch), her abusive boyfriend Mogg (an actual cat), their submissive roommate Owl (a vaguely humanoid owl), and the self-destructively hedonistic Werewolf Jones (half human, half wolf) in print runs of 300 to 500 copies, with hand-painted covers, custom stamps and hologram security stickers.
Seeds and Stems
collects all of these out-of-print, self-published stories produced by the artist between 2016-2019, along with a generous smattering of rarities from various anthologies and magazines. Megg and Mogg and friends explore the worlds of lucid dreaming, banking scams, cinema, mixed drinks, alien invasions, and budget vasectomies in this varied collection of rare and often experimental adventures, designed and curated entirely by the artist. 
About the Author
---
Born 1981, Launceston, Tasmania. Simon Hanselmann's New York Times Best-Selling Megg, Mogg and Owl series has been translated into thirteen languages, nominated for multiple Ignatz and Eisner awards, and won Best Series at the Angouleme International Comics Festival in 2018. He currently lives in Seattle, Washington with his wife and a rotating cast of small animals.
Praise For…
---
One of the most gifted
cartoonists alive.
— The A.V. Club

Hilarious, upsetting, and thoroughly brilliant, this collection proves once and for all that there's not another living cartoonist as brazenly funny or unflinchingly weird or insightful about mental illness as Hanselmann.
— Library Journal

If you like your comedy black, profane and outrageous, you've probably already encountered Hanselmann's twisted tales of Meg, Mogg, Owl and Werewolf Jones or should want to soon.
— Forbes

These are simultaneously some of the meanest and most tender comics you will ever read.
— Seattle Weekly

Megg, Mogg, and Owl is a soap opera. It's a sitcom. It's a black comedy about drug addiction. ... There's a voyeuristic quality to it—like watching a car crash. But it's also hard not to root for this out-of-control crew. I want them to win.
— Portland Mercury

An astoundingly well-crafted and punishingly heartfelt depiction of mental illness and codependence, one that also manages to make you laugh uncomfortably at the horrible decisions made by the characters you're watching.
— Vulture

It's signature Hanselmann: a tale of friends and their endlessly fucked up antics.
— The Fader

Though Hanselmann's obsessions may be beyond the pale for many readers, his devoted fans and those fascinated by humanity's darkest aspects will find a wealth of material here.
— Publishers Weekly

Full of ennui, crumbling mental health, self-loathing, disgust and betrayal, is a perfect distillation of this series. ... an essential release for anyone who has enjoyed Hanselmann's work before.
— The Quietus