Nightwalking: A Nocturnal History of London (Paperback)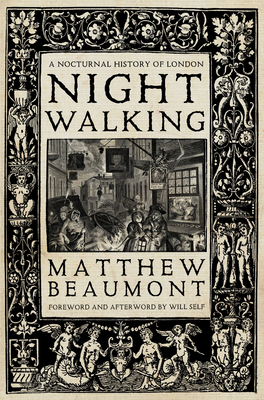 $19.95

Special Order—Subject to Availability
Description
---
"Cities, like cats, will reveal themselves at night," wrote the poet Rupert Brooke. Before the age of electricity, the nighttime city was a very different place to the one we know today—home to the lost, the vagrant and the noctambulant. Matthew Beaumont recounts an alternative history of London by focusing on those of its denizens who surface on the streets when the sun's down. If nightwalking is a matter of "going astray" in the streets of the metropolis after dark, then nightwalkers represent some of the most suggestive and revealing guides to the neglected and forgotten aspects of the city.

In this brilliant work of literary investigation, Beaumont shines a light on the shadowy perambulations of poets, novelists and thinkers: Chaucer and Shakespeare; William Blake and his ecstatic peregrinations and the feverish ramblings of opium addict Thomas De Quincey; and, among the lamp-lit literary throng, the supreme nightwalker Charles Dickens. We discover how the nocturnal city has inspired some and served as a balm or narcotic to others. In each case, the city is revealed as a place divided between work and pleasure, the affluent and the indigent, where the entitled and the desperate jostle in the streets.

With a foreword and afterword by Will Self, Nightwalking is a captivating literary portrait of the writers who explore the city at night and the people they meet.
About the Author
---
Matthew Beaumont is a Senior Lecturer in the Department of English at University College London. He is the author of Utopia Ltd.: Ideologies of Social Dreaming in England 1870-1900 (2005), and the co-author, with Terry Eagleton, of The Task of the Critic: Terry Eagleton in Dialogue (2009). He has also edited Restless Cities (2010). He lives and walks in London.
Praise For…
---
"A wonderful book, that has many fascinating things to say about the night-time life of our capital down the ages. Rarely has a book on the subject of darkness been so illuminating; all insomniacs should read it."
—Ian Thomson, Evening Standard

"An enthralling study of city life and creativity … impressive, magisterial … A copy of Nightwalking should be the indispensable handbook for creative writing classes from Ayrshire to East Anglia."
—Robert McCrum, Observer

"Part literary criticism, part social history, part polemic, this is a haunting addition to the canon of psychogeography."
—Financial Times

"An important and lively book."
—Times Higher Education

"A lively and learned study … a book that remains personal in tone even when it is flexing its considerable intellectual muscle."
—Robert Douglas-Fairhurst, Guardian

"Rarely has a book about darkness been so illuminating."
—Spectator ("Books of the Year")

"One of the most brilliant of the younger generation of English critics."
—Terry Eagleton

"Nothing less than a grand unifying theory of the counter-enlightenment."
—Will Self

"He releases an ancient, urban miasma that rises from the page, untroubled by electric illumination, allowing us to inhale what Shakespeare's contemporary Thomas Dekker called 'that thick tobacco-breath which the rheumaticke night throws abroad.'"
—Independent

"Teeming and glorious … Matthew Beaumont probes far into the shadows."
—Alexandra Harris, Times Literary Supplement

"This is a book pulsing with life, just as the streets do, despite attempts to cut that liminal, semi-illicit life off. The foreword and afterword, by Will Self, beautifully bracket the book, reinforcing the idea that the city is layered over time, and that each layer is accessible, and can be made vivid in the imagination. Why Nightwalking has not won a major award is beyond mine."
—Nicholas Lezard, The Guardian

"In Nightwalking, Matthew Beaumont rubs shoulders with the deviants, dissidents and dispossessed who lurk in the shadows of Shakespeare, Johnson, Blake and De Quincey."
—Mark Sanderson, Evening Standard ("The Best Books About London")

"The joy of Beaumont's book is the way it illuminates both literature and urban politics through the splendors and panics of their nighttime journeys."
—Flavorwire

"A historical guide to the capital, Beaumont details everything including the 'villainous' common nightwalkers and prostitutes of the middle ages and Charles Dickens's time as an insomniac."
—Dazed & Confused