Democracy and Its Crisis (Paperback)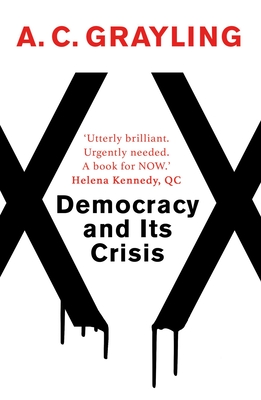 $15.95
In Stock—Click for Locations
Description
---
The EU referendum in the UK and Trump's victory in the USA sent shockwaves through our democratic systems. In Democracy and Its Crisis A. C. Grayling investigates why the institutions of representative democracy seem unable to hold up against forces they were designed to manage, and why it matters.

First he considers those moments in history when the challenges we face today were first encountered and what solutions were found. Then he lays bare the specific threats facing democracy today.

The paperback edition includes new material on the reforms that are needed to make our system truly democratic.
About the Author
---
A. C. Grayling is Professor of Philosophy and Master of the New College of the Humanities, London. Among his many books are Towards the Light: The Story of the Struggle for Liberty and Rights that Made the Modern West, Liberty in the Age of Terror, The God Argument and The Age of Genius. He has been a regular contributor to The Times, Financial Times, Independent on Sunday, Guardian, Economist, New Statesman, Prospect and New European. He appears frequently on radio and TV, including Newsnight and CNN News, and is a popular speaker at festivals and debates. He lives in London.
Praise For…
---
'Grayling incisively surveys attempts by Western thinkers, from Plato and Aristotle to Madison and Tocqueville, to resolve what he calls the "dilemma of democracy": the tension between the belief that power belongs ultimately to the people, and the desire for stable and humane government.'
— Wall Street Journal

'We are mystified, alarmed, even frightened by the cascade of events that beset our world. A. C. Grayling not only clarifies the way in which these events are challenging the workings of democracy – amid the rise in populism in response – but comes up with solutions.'
— Jon Snow, journalist and broadcaster

'A. C. Grayling applies his great intellectual prowess to the most pressing issue of our times – the subversion of modern democracies by dark money, corporate power, Big Data, social media and fractured political party systems. Utterly brilliant. Urgently needed. A book for NOW.'
— Helena Kennedy, QC

'A compelling and deeply unsettling dissection of the way in which democratic principles have been subverted by vested interests in the UK and the USA. This book shows that democracy can only be defended if we first understand how it is being attacked.'
— Nick Clegg, former Deputy Prime Minister

'A compelling book worthy of being shelved alongside the Federalist Papers and Two Treatises of Government.'
— Kirkus

'A concise, clear and challenging survey of the history of democracy, its recent failures and how we might repair it.'
— Shelf Awareness