City of Jasmine (Paperback)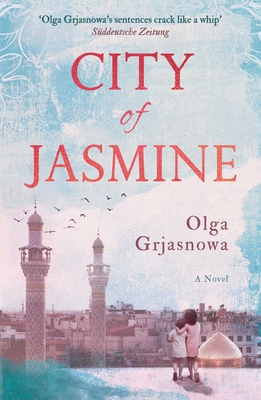 $16.95
Not On Our Shelves—Ships in 1-5 Days
Description
---
Syria - a country at war

Amal, Hammoudi and Youssef are young and ambitious, the face of modern Syria. But when civil war tears through their homeland, they are left with a horrifying choice: risk death by staying in the country they love, or flee in search of a new life elsewhere?

From one of Germany's most talented literary voices comes this intricately woven story of brutality, loss, and how hope can shine through when darkness feels overwhelming.
About the Author
---
Olga Grjasnowa was born in Baku, Azerbaijan. Her debut novel Der Russe ist einer, der Birken liebt (All Russians Love Birch Trees) was awarded the Klaus-Michael Kühne Prize and the Anna Seghers Prize. City of Jasmine is her third novel. Olga Grjasnowa lives with her family in Berlin.

Katy Derbyshire, originally from London, has lived in Berlin for over twenty years. Her translation of Clemens Meyer's Bricks and Mortar was longlisted for the Man Booker International Prize 2017. She occasionally teaches translation and co-hosts a monthly translation lab and the bi-monthly Dead Ladies Show. Katy was recently awarded the Translator Prize of the Foundation for Art and Culture NRW for her translation and advocacy work.
Praise For…
---
'Grjasnowa's measured undemonstrative writing style (the book is beautifully translated from German by Katy Derbyshire) is central to the novel's success... A significant literary and moral success.'
— Big Issue

'There are few authors writing in German as sensuously and vividly as Grjasnowa.'
— KulturSpiegel

'Grjasnowa provides a close-as-skin understanding of what it's like to suffer bombardment, torture, and dislocation while remaining human and hopeful... Highly recommended.'
— Library Journal, Reading Around the World: 12 Top Spring Titles for the Library Market

'An important and painful book.'
— Deutschlandradio Kultur

'Olga Grjasnowa's sentences crack like a whip.'
— Süddeutsche Zeitung

'It is wonderful that there are writers like Grjasnowa who can write brilliantly and decisively about the real world.'
— Brigitte

'A dark, tragic story with the resilient light of humanity shining through it... It truly spoke to my soul.'
— Marjorie's World of Books, blog review

'Olga Grjasnowa writes from the nerve center of her generation.'
— Die Zeit

'Grajsnowa's extraordinary novel offers an opportunity to reacquaint ourselves with one of the great tragedies of our time - to remember what that nation once was, why and how the conflict began and what it has led to…Grajsnowa's measured undemonstrative writing style (the book is beautifully translated from German by Katy Derbyshire) is central to the novel's success…The reader isn't patronised or manipulated, and the emotional impact is all the greater. Characters come and go and live and die as the novel heads for its masterly, shattering denouement. A significant literary and moral success.'
— Big Issue

'A truly gifted writer...[who] has a very bright future ahead of her.'
— Yahoo! Voices