Text Fails: This Book Includes 3 Manuscripts With Over 150 Funniest Mishaps Ever On A Smartphone (Paperback)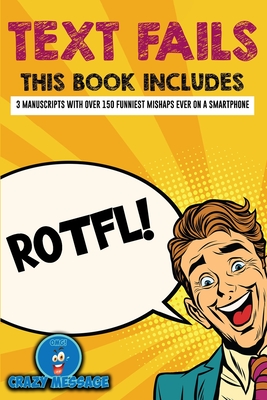 $15.00
Not On Our Shelves—Ships in 1-5 Days
Description
---
★Ever been sabotaged by autocorrect?★
Then you'll ROFL at these hilarious texting fails
Anyone who's used a smartphone will have experienced at least one moment of heart-stopping embarrassment, thanks to autocorrect deciding what they meant to say. TEXT FAILS: 3 Books in 1 is jam-packed with hilarious typos, autocorrect fails, and awkward moments
From messages that are accidentally TMI, to facepalm-worthy typos and hilarious autocorrect errors, this collection of crazy messages will have you in stitches over these zany family miscommunications.
Giggle at hilarious convos like...
Mom: Are you eating enough fruits and vegetables?
Me: I am tryin to eat better, yes mother.
Mom: Good Just remember an asshole a day keeps the doctor away.
Me: Lmao Great advice mom
Mom: An apple a day Keeps the doctor erect.
Mom: AWAY.
Me: Hahaha i will remember that
By the time you've reached the last page, you'll be feeling much better about your own texting fails...and wiping the tears of laughter from your face.
SCROLL UP AND GRAB YOUR COPY TODAY