Digital Marketing for Beginners 2020: Intensive Course on Digital Marketing That Allows You to Learn How to Sell your Product or Propose Yourself to M (Paperback)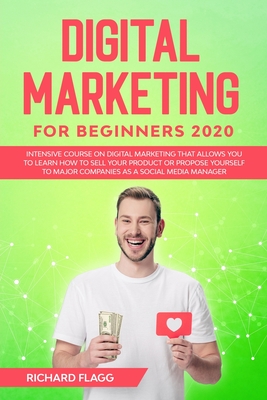 $24.97
Not On Our Shelves—Ships in 1-5 Days
Description
---
55% discount for bookstores
Do you want to become a guru of digital marketing?
Are you looking for a book that can offer you the hidden secrets of the digital marketing trade from the very beginning?
If you answered "yes" to any of these, then this is the perfect, educational and informational book for you
Hello Welcome to the guide of "Digital Marketing for Beginners 2020".
Digital marketing is a general term that covers all marketing channels and strategies that one can not only use to advertise digital products or services but also on electronic equipment such as televisions, smartphones, and electronic billboards. This book designed as an introduction to the world of digital and online advertising
The average starting salary for skilled digital marketing managers in the United States can quickly go beyond $100,000 per year, and there's never been a better time to be a digital marketer
This book is carefully designed with multiple sections so that you can grasp the core components of digital marketing quickly but most effectively. This book will teach you everything you need to know to get a job in advertising and marketing, run a successful campaign, grow your current business or find new ways to increase your value in your current situation.
This book will show you all the subtleties of the digital world. The most comprehensive book on the market about digital marketing.
Here's what you'll learn:
Introduction to Digital Marketing
The Basics of Digital Marketing
Online Work Tools: Facebook, Instagram & Youtube
The Mindset to Be Successful
Which Marketing Channels Online to Use
How Much Money It Takes to Get Started
Practical Example 1: How to Sell A Product
How to Present Yourself to Companies as A Social Media Manager
How Much You Can Earn with Digital Marketing
And so much more

By the end, you will be able to use multiple platforms to introduce your product, to market in the right way, and to convince that it is the best product for people.