The Song Each Bullet Sings: The Story of Operation Iraqi Freedom Through the Eyes of One Marine (Paperback)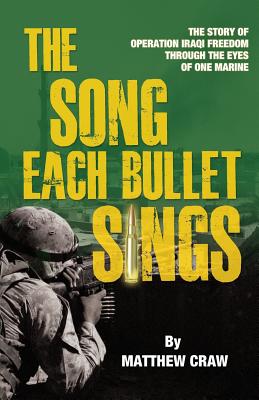 $16.95
Not On Our Shelves—Ships in 1-5 Days
(This book cannot be returned.)
Description
---
The Song Each Bullet Sings: The Story of Operation Iraqi Freedom Through the Eyes of One Marine is based on real events that occurred during the main surge of Operation Iraqi Freedom in 2003. The story is told by Marine Corporal Matthew Craw. This is the real story of the conflict in Iraq. It details the point of view of the soldier sleeping on the desert floor, the Marine firing a cannon onto enemy safe houses, and the devil dog and his unit getting ambushed on the road to Baghdad. This book doesn't just tell the story of the American Soldier in Iraq, it forces the issues that our service men and women are dealing with into the public eye by inviting the reader to live through Corporal Craw's experiences. America is now constantly finding its veterans in complete mental and physical disarray upon returning from the war in Iraq. Read The Song Each Bullet Sings to find out why our soldiers are returning home scarred.
Praise for
The Song Each Bullet Sings
"Among the ranks of recent memoirs on the Iraq War, The Song Each Bullet Sings stands out as an example of deeply reflective and descriptive writing, almost poetic in its beauty and honesty, which given the subject matter is no easy task. Many war authors can take us to the places they fought. Craw takes us further, into the emotional and deeply personal battlefields of his experiences of a Marine at war."
Major Benjamin Tupper Author, Greetings from Afghanistan, Send More Ammo
"Matt Craw serves the reader the same way he served our country-with passion, commitment, and integrity. His vivid descriptions of battle deepens our understanding of the strain and drain of combat-moving beyond the romantic to the searing toll battle takes on our troops."
Jim Axelrod CBS News Correspondent
About the Author
Matthew Craw is a combat veteran of the United States Marine Corps. He earned his combat action ribbon during Operation Iraqi Freedom in 2003. His unit, Alpha Battery 1st Battalion 11th Marines, was a vital part of the regimental combat team that paved the way for the initial surge of the war. After returning from combat in Iraq, his gun section was involved in a training accident; as a result of which, he sustained a traumatic brain injury (TBI).
Since then, Matthew continues to experience painful migraines, memory and speech issues. Having trouble with spoken language, writing has become his outlet. He has combatted his TBI and PTSD to earn an Associate's Degree in Liberal Arts and Creative Writing from Brookdale Community College and a Bachelor's Degree in English with a concentration in Professional Writing from Rider University.