WWMD: What Would Marianne Do?: Quotes to Live by (Paperback)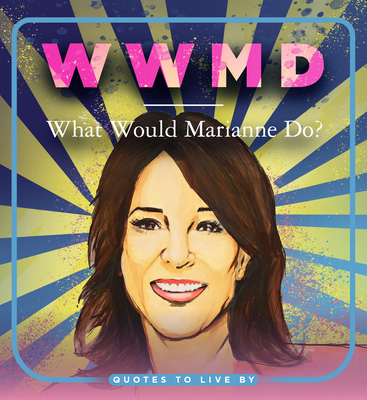 $16.99
Not On Our Shelves—Ships in 1-5 Days
Description
---
What Would Marianne Do is the perfect, pocket-sized guide to living your best, er--blessed--life just like 2020 presidential hopeful Marianne Williamson, with over 100 of her most inspirational quotes to guide you.
Need inspiration to shed some psychic baggage, find inner peace, or defeat a blustering, incumbent president? Do you find yourself asking, What would Marianne do? when confronted with oppressive systems, generational wounds, and all-around negative vibes? Do you long to cast out hate with the power of love--and a Cabaret drawl? Well, in the words of Marianne Williamson, Oprah's go-to spiritual guide, acclaimed author, and breakout star of the 2020 presidential race, "Girlfriend, you are so on."
Small enough to stash in your handbag, WWMD is a rich, take-it-with-you-everywhere source of new-age wisdom, witty one-liners, and mindful mysticism. Abounding with Marianne Williamson's 125 best quotes and divided into sections such as Love, Ego and Haters, and Healing and Forgiveness, this illustrated compilation will have you laughing, smiling, and greeting each day with courage and compassion.