Saturday, October 16, 2021 - 4:00pm
Click here to purchase tickets for this virtural event.
Join Indies UNITE! for this second event in the Hear Our Voices, Share Our Stories fall 2021 series dedicated to children's books fostering productive conversations on U.S. immigration.
The event is hosted by Indies UNITE!, a group of independent bookstores working together to put on a series of hard hitting virtual events that challenge the status quo, question our current standards, and leave no curiosity left unexplored.
Hear My Voice/Escucha Mi Voz is a moving picture book for educators, older children, and their families that introduces a difficult topic, amplifying the voices and experiences of immigrant children detained at the border between Mexico and the US. The children's actual words (from publicly available court documents) are assembled to tell one heartbreaking story, in both English and Spanish (back to back). Each spread is illustrated in striking full-color by a different Latinx artist. A portion of sales will be donated to human rights organizations that work with children on the border.
Warren and Michael will be in conversation with Christina Scott.
A purchase of Hear My Voice/Escuscha Mi Voice is required to attend this event. Event attendees will also receive an educator guide for classroom or home use.
Warren Binford is the lead organizer of Project Amplify a national campaign launched to establish legal protections for children in government care so that the brutality discovered on the border never happens again. Warren is an internationally recognized children's rights scholar and advocate who holds a tenured position as Professor of Law and serves as the Director of the Clinical Law Program at Willamette University. She founded Willamette's Child and Family Advocacy Clinic, which has provided pro bono legal support to children and families in crisis, as well as guidance on legislation and public policy. She has published nearly 60 law review articles, book chapters, essays, NGO publications, and editorials and has given approximately 150 presentations, primarily on topics related to children's issues, throughout the country and around the world. Binford holds a J.D. from Harvard Law School and a B.A., summa cum laude with distinction, and an Ed.M. from Boston University. She lives in Oregon.
Michael Garcia Bochenek is senior counsel to the Children's Rights Division of Human Rights Watch, focusing on juvenile justice and refugee and migrant children. He has researched and reported on criminal and juvenile justice systems and prison conditions, the protection of refugees and internally displaced persons, the exploitation of migrant workers and other labor rights issues, the rights of lesbian, gay, bisexual and transgender persons, and rights violations in armed conflict, including the use of children as soldiers. From 2006 to 2015, he was director of policy and then director of law and policy for Amnesty International's secretariat in London, where he oversaw strategic litigation, among other responsibilities. He holds a bachelor's degree from Michigan State University and a law degree from Columbia University. In addition to English, he speaks Spanish and Portuguese. Michael lives in New York.
Christina Scott is a former secondary educator turned public interest attorney. Her legal passion has led her into a job that she loves- working with children and their families to overcome the health harming legal needs that plague families all over the country. Perhaps more importantly, Teena has been an avid bookseller in a local beloved bookstore for several years.
Ages 8 and up
Child & Teen
Children
Ticketed
Offsite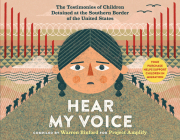 $19.95

ISBN: 9781523513482
Availability: In Stock—Click for Locations
Published: Workman Publishing Company - April 13th, 2021
---
Not Signed or Personalized