Saturday, April 23, 2022 - 1:30pm
Click here to register for this in person event.
Politics and Prose is delighted to partner with the DC Public Library and the DC Public Library Foundation to welcome author Naaz Khan for a Beyond the Book discussion about her picture book Room for Everyone.
This program is presented in conjunction with D.C. Public Library's Beyond the Book program. Beyond the Book is a library literacy program that supports developing readers aged 5-8 to become successful and joyful readers. Beyond the Book is made possible by the generous support of the DC Public Library Foundation. More information about Beyond the Book can be found at https://www.dclibrary.org/beyondthebook
Beyond the Book members will receive a free copy of Room for Everyone courtesy of the DC Public Library Foundation. Select that you are a member when you are registering for the event.
ABOUT THE BOOK:
A young boy on a crowded bus discovers that, after some wiggles and giggles, there's room for everyone in this lighthearted rhyming picture book set in Zanzibar. The dala dala rumbles and roars as Musa and Dada drive off to the shore—but the bus stops for multiple detours: "Do you need a ride? It's hotter than peppers out there in the sun! Come in, there's room for everyone!" One stop becomes two stops which soon becomes ten, and Musa wonders when it will end: "How can any more people get in? We're already smushed like sardines in a tin!" But there's always room for one more, if you make the room, which is the heartwarming take-away from this bouncy, joyous tale in rhyme.
Naaz Khan is a writer and educator. She draws inspiration from her experiences living in Saudi Arabia, Egypt, Kenya, and India, where she was born. Room for Everyone is her debut picture book
MLK Library
901 G Street NW
Child & Teen
Children
Offsite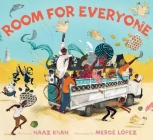 $17.99

ISBN: 9781534431393
Availability: In Stock—Click for Locations
Published: Atheneum/Caitlyn Dlouhy Books - November 9th, 2021
---