P&P Live! Don Tate-William Still and His Freedom Stories: The Father of the Underground Railroad
Thursday, November 5, 2020 - 10:00am
Join celebrated author and illustrator Don Tate for a discussion of the first-ever picture book about the father of the Underground Railroad. The son of parents who escaped slavery, William Still grew up hearing about its horrors—and the two brothers his parents were forced to leave behind. As he worked at the Pennsylvania Anti-Slavery Society and turned his home into a "station" on the Underground Railroad, he met hundreds of people seeking freedom. One day, a strangely familiar man came into William's office searching for information on his long-lost family, an event that changed William and his family forever. From then on, William collected stories from other freedom-seekers passing through the Underground Railroad and helped reunite them with their families. In all, William aided around 800 people in their efforts to escape slavery, eventually publishing their stories of hardships and extraordinary tales of escape. Exploring important themes of heritage, ancestry, and family history, Don Tate's compelling words and artwork highlight the power of stories and storytelling.
Don Tate is the award-winning illustrator of numerous books for children, including Carter Reads the Newspaper. He is the author and illustrator of Poet: The Remarkable Story of George Moses Horton, for which he won the Ezra Jack Keats New Writer Award. He is also the co-contributor to the Brown Bookshelf, a blog designed to raise awareness of African Americans writing for young readers. He lives in Austin, Texas.
Signed bookplates and a poster will be included with every purchase of William Still and His Freedom Stories, while supplies last.
Ages 6-10
Click here to join the Live! event.
Child & Teen
Children
Offsite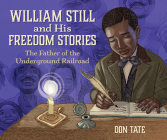 $18.99
ISBN: 9781561459353
Availability: In Stock—Click for Locations
Published: Peachtree Publishing Company - November 1st, 2020
---

$17.99
ISBN: 9780316481670
Availability: In Stock—Click for Locations
Published: Little, Brown Books for Young Readers - November 10th, 2020
---

$8.95
ISBN: 9781682630624
Availability: In Stock—Click for Locations
Published: Peachtree Publishing Company - October 1st, 2018
---
Not Signed or Personalized