Bob Mankoff, cartoon and humor editor for Esquire, former New Yorker cartoon editor, and author of the memoir How About Never—Is Never Good For You?, introduces this collection of his favorite Jewish cartoons, Have I Got a Cartoon for You! (MomentBooks, $19.95), by quipping that the People of the Book are also "the People of the Joke." Exploring how Jewish humorists have drawn on traditions such us Talmudic disputation for material, Mankoff surveys the long tradition of Jewish humor and the cartoon's place in it and refl ects on how his own Jewish heritage—which included early experiences of Borscht Belt comedians like Jerry Lewis and Buddy Hackett—shaped his career as a cartoonist.

$19.95
ISBN: 9781942134596
Availability: In Stock—Click for Locations
Published: Momentbooks - September 17th, 2019
---
K.K. Ottesen, whose work has appeared in The Washington Post for more than a decade, is a writer and photographer who pairs images with interviews to break down barriers and celebrate common ground. Her first book, Great Americans, explored what it means to be American through a series of portraits of people who bear the names of famous fi gures. Her new collection, Activist (Chronicle, $35), features forty change-makers of diverse ages, backgrounds, and perspectives—Bernie Sanders, Angela Davis, Bill McKibben, Alicia Garza—discussing what motivates people to take up a cause and what sustains them during the struggle. Spotlighting issues including voting and reproductive rights, the environment, and economic justice, Ottesen shows, while her subjects tell, what it means to live a life of passion and purpose.

$35.00
ISBN: 9781452182773
Availability: In Stock—Click for Locations
Published: Chronicle Books - October 8th, 2019
---
An internationally known photographer specializing in music, Antonia Tricarico has more than two decades of experience, including collaborating with Dischord Records, Kill Rock Stars, and Youth Action Research Group. Focusing largely on the women of D.C's vibrant music underground from the 1990s to today, Frame of Mind (Akashic, $32.95) features more than 150 photos of classic homegrown performers such as Fugazi, Branch Manager, and the Make-Up along with bands they became or inspired—Dead Meadow, Motorcycle Wars, the Evens, and Weird War—and visiting musicians like Dutch group the Ex and Italy's Uzeda. The stunning images are complemented by essays by some of the top female artists of the era, including Joan Jett, Amy Farina, Tara Jane O'Neil, and more.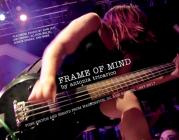 $32.95
ISBN: 9781617757198
Availability: In Stock—Click for Locations
Published: Akashic Books - June 4th, 2019
---
Pages